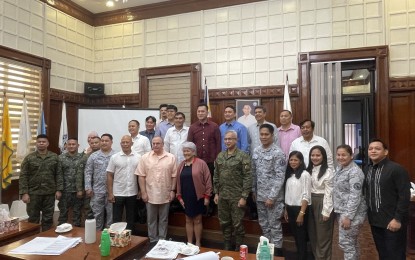 LAOAG CITY – The Armed Forces of the Philippines (AFP) has taken back its plan to hold a live fire exercise for the Philippine-US Balikatan in the province of Ilocos Norte in April and decided to move it to Zambales instead.
This was contained in an undated letter from AFP Maj. Gen. Marvin Licudine in his capacity as exercise director and addressed to Ilocos Norte Gov. Matthew Joseph Manotoc.
"It is with deepest regret to inform your good office that the Combined Joint Littoral Live Fire Exercise, being one of the highlights of the Philippines-United States Exercise Balikatan this year was moved to Naval Station Leovigildo Gontioqui in San Antonio, Zambales," Licudine said.
No reason for the change of venue was mentioned in the letter.
The military official, nevertheless, acknowledged the province for their help. He said they are looking forward to going back to the province for future joint activities.
"Your sincerity and receptiveness not to mention the enthusiasm of your community to accomodate the AFP Team during the planning and coordination was deeply felt by our personnel," Licudine said.
As a result, all safety preparations in the province, which started this March, have been halted.
Last Monday, the provincial government has advised the officials of the 21 towns and two cities of Ilocos Norte to take precautionary measures for this year's joint military exercise as a live fire exercise to test the newly acquired weapons system of the United States and the Philippines was earlier planned to be set up in Burgos town.
This year's Balikatan will be held from April 11 to 28 in various areas in the country, including Palawan, Batanes and parts of Northern Luzon.
Unlike in previous military exercises, Col. Michael Logico, spokesperson of the Balikatan 2023, said some activities this year would be held outside traditional training areas.
"Balikatans in the past were held inside military camps, but now we are venturing outside our traditional training areas. The reason is, in CERAB and Fort Magsaysay, it's a landlocked training area. What you can only exercise there are the land and air components. There's nothing you can do with the Navy," Logico said in an earlier interview with reporters.
During the live fire exercise at sea, Logico said Filipino and American troops will fire at and sink a target vessel, an old fishing boat, some 12 nautical miles off Zambales.
"We are going to fire at a target. We have a target vessel that the US procured for this purpose," Logico said.
More than 17,000 Filipino and American soldiers are set to join the Balikatan 2023, described as the largest iteration of the joint training exercises.
Around 12,000 soldiers will come from the US military, while around 5,000 will be from the AFP.
A hundred more from the Australian Defense Force will join and take part in smaller events, mostly land-based exercises. There will also be observers from Japan, South Korea, ASEAN, the United Kingdom, France and India. (PNA)