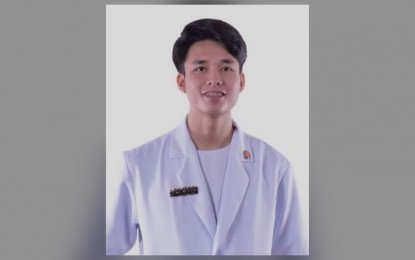 BACOLOD CITY – This city is celebrating the achievement of another topnotcher as Sidrey Mel Flores, a summa cum laude graduate of Colegio San Agustin-Bacolod, placed No. 1 in the March 2023 Medical Technologists Licensure Examination.
Flores, 23, was the lone examinee from Western Visayas, who landed in the top 10, based on the results released by the Professional Regulations Commission (PRC) on Tuesday night.
He garnered the highest rating of 92.10 percent among the 4,714 examinees who took the test on March 8 and 9.
Mayor Alfredo Abelardo Benitez was among those who congratulated the topnotcher, who is the son of Villamonte barangay chairman Rommel Flores and wife Venus Aldeguer.
"Villamontehanon. Bacolodnon. We are proud of you," the mayor said in a Facebook post.
Flores, who dreams of becoming a doctor, said he was hoping to make it to the top 10, but did not expect to take the number one spot because of the stiff competition.
"But knowing that God has really planned this for me, I'm so happy He gave the No. 1 to me," he told reporters on Tuesday afternoon.
Flores said he took a "holistic approach" in preparing for the board examination.
"Not only the mental side, I also considered the physical and spiritual. I prepared by strengthening my body, eating healthy food. I also gave time for leisure and for rest," he added.
Always an achiever, Flores was the first-ever summa cum laude of the CSA-B Medical Technology course program.
He was a salutatorian in grade school and valedictorian in high school at the University of St. La Salle (USLS) Integrated School, and Liceo-De La Salle, where as a senior high school student he was the editor in chief of the campus publication, Kapawa.
At CSA-B, Flores also became the editor in chief of the official student paper, The Eagle.
"Just believe in yourself. It's all about mindset that you can do it. Have the mental fortitude to surpass your mental struggles and emerge victorious," Flores said.
In recent years, Flores is the second examinee from Bacolod, who topped the Medical Technologists Licensure Examination.
Patrick Joseph Mabugat of University of Negros Occidental-Recoletos also placed number one in September 2014 with a rating of 90.9 percent.
During the 2017 Bar Examinations, Mark John Simondo of the USLS College of Law became the first placer in 15 years to breach the 90 percent mark. (PNA)