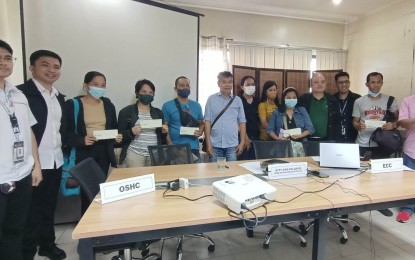 ILOILO CITY – The Employees Compensation Commission (ECC) has already released more or less PHP4 million as cash assistance to the employed sector in Western Visayas who got infected by the coronavirus disease 2019 (Covid-19) from 2021 up to the present.
Regional officer Stephen Barredo, in a media briefing on Thursday, said Covid-19 has been declared by the Department of Labor and Employment and their ECC as an occupational illness.
"The cash assistance benefit is given for workers who contracted Covid-19 while working. The good thing about Covid-19, we are not very strict. We are just asking you to provide certificate of employment with the last day of duty prior to contracting the illness to prove the work-relatedness of Covid-19," he said.
On Thursday, ECC released cash assistance to 10 recipients bringing to 400 the number of claimants from Western Visayas out of the 514 walk-in applicants.
The assistance varies from PHP10,000 for survivors and PHP15,000 for those who died.
"The cash assistance is just an additional benefit. They have received sickness benefit, medical benefit and reimbursements, and others funeral benefit. That is over and above the SSS and GSIS employees compensation basic claims," Barredo added.
The filing claim for the cash assistance has no prescriptive period since the country is under a state of calamity.
Currently, he added that they are no longer accepting walk-in applicants and instead have the cash assistance online application system, which is currently on hold for the ECC to focus on processing the claims of pending applications.
Meanwhile, ECC will pilot in Western Visayas the Return to Work Assistance Program (RTWAP) in the second quarter of 2023.
Regional program focal person Mark Lester Flores, in the same press briefing, said that RTWAP is aimed at bringing back persons with work–related disabilities to the mainstream by rehiring them either by their same or different employer.
"We are dealing with them holistically from the time they incurred injuries or accidents up to the time that they go back to employment. If not we can provide them with other benefits such as livelihood assistance.
"The success of the RTWAP mainly depends on how early we assist our clients," he said. (PNA)