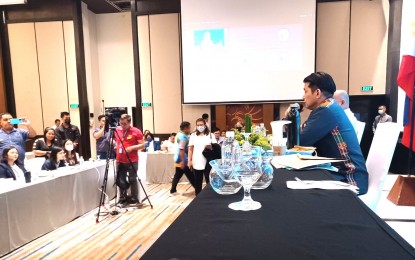 CEBU CITY – Senator Robin Padilla on Thursday said the Philippine government could save as much as PHP28.5 billion if amending the 36-year-old 1987 Constitution would be through a constitutional assembly (con-ass).
Padilla, chair of the Senate Committee on Charter Amendments and Revision of Codes, along with Senator Ronald Dela Rosa, met with Governor Gwendolyn Garcia and City Mayor Michael Rama before discussing Charter change (Cha-cha) in a hybrid public hearing at the Seda Hotel here.
He said he will participate in a conference on Monday to discuss the method of changing the constitution, either through con-ass or constitutional convention (con-con), also emphasizing that he would not budge on "inserting" other agendas.
The senator is pushing for the amendments of the seven economic provisions to "accelerate economic progress" in the country, saying that other agendas like the proposed overhaul of the country's political structure could be done later.
"Bilang ihinalal ng taong bayan, kami po ay obligado na gawin ito kahit na marami po ang kumukutya sa amin, marami po ang gustong pumigil sa amin. Kailangan naming gawin ito para sa inyo (As elected by the people, we are obliged to do this even though there are many people who mock us, many people who want to stop us. We have to do this for you)," he said.
Fund other programs
He noted that with con-ass, the government would only need at least PHP46 million if the process would coincide with the barangay elections in October, and PHP13.8 billion, if it would be done separately.
Through con-con, the government would spend PHP28.5 billion if done separately from the barangay polls on October 30 this year. Should this be done alongside the upcoming elections, the government would spend at least PHP14.7 billion.
Padilla suggested that instead of spending much in revising the Constitution through con-con, it could be used to push other social legislations such as amending the Senior Citizens Law and the Marawi Compensation Law.
Meanwhile, the legislator said Garcia and Rama have assured that Cebuanos are supporting the efforts to amend the economic provisions of the Constitution. (PNA)