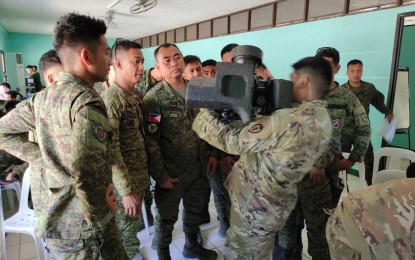 MANILA – American experts on extended-range mortar and anti-tank missile operations provided lessons to Filipino troops during the subject matter expert exchanges (SMEE) segment of the ongoing "Salaknib" exercises in Fort Magsaysay, Nueva Ecija province on Wednesday.
"Experts on extended-range mortar and 'Javelin', an anti-tank weapon extensively used in the Ukraine crisis, conducted lessons for Filipino soldiers at the SFS (Special Forces School)," said Philippine Army (PA) spokesperson Col. Xerxes Trinidad in a statement Thursday.
Observers said the FGM-148 "Javelin" missile has proven effective in neutralizing tanks and other armored vehicles in the said conflict.
Aside from these, field artillery personnel from participating artillery units from the PA and the United States Army Pacific (USARPAC) conducted the counter unmanned aerial system SMEE at the headquarters of the Army Artillery Regiment which is also located in Fort Magsaysay.
"Filipino and US soldiers learned lessons, tactics and procedures from jungle environment and survival subject matter experts at SFS while Army aviators and medical personnel and their US counterparts conducted the aero medical evacuation SMEE at Army Aviation Regiment," Trinidad said.
The first phase of "Salaknib", which started on March 13 and will conclude on April 4, is an Army-to-Army training between the PA and USARPAC.
The ongoing exercises involve around 3,000 soldiers from USARPAC's 25th Infantry Division and PA's 5th Infantry Division, 7th Infantry Division and 1st Brigade Combat Team training side by side in a spectrum of military operations.
The exercise's second phase is slated for the second quarter of the year.
'Javelin' live-fire set March 31
As this developed, Trinidad said the training audience from both PA and USARPAC is also scheduled to conduct "Javelin" live-fire exercises on March 31.
Filipino troops who participated in the "Javelin" lectures are from the PA's 1st Brigade Combat Team, Special Forces Regiment (Airborne), First Scout Ranger Regiment, Light Reaction Regiment, 5th Infantry Division, 7th Infantry Division, Armor Division and the PA Anti-Armor Capability Technical Working Group from the Training and Doctrine Command.
They were taught by personnel of the 1st Battalion, 27th Infantry Regiment, 2nd Brigade Combat Team, USARPAC.
The "Javelin" SMEE bolsters the PA' s modernization and capability development thrusts as it gradually shifts from internal security to territorial defense operations, Trinidad said. (PNA)