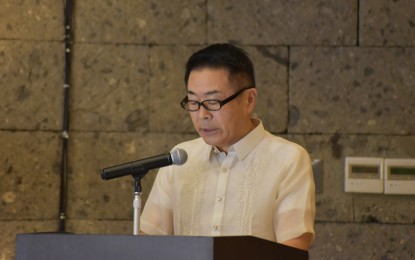 MANILA – Japan is funding the construction of a PHP14 million school building in Ilog, Negros Occidental, a move seen to boost government efforts to address classroom shortage in the country.
The grant contract, signed by Japanese Ambassador Kazuhiko Koshikawa and Ilog Mayor John Paul Alvarez on Thursday, is part of Tokyo's Grant Assistance for Grassroots Human Security Projects (GGP) that already financed over 500 community and poverty reduction programs in the Philippines since 1989.
The funding would construct a new two-story six-classroom building with comfort rooms at Ilog Elementary School and would benefit at least 215 students.
The learning space would also serve as an evacuation center that can accommodate over 200 individuals during calamities.
In a press statement, the Japanese Embassy in Manila said Ilog Elementary School currently utilizes makeshift spaces including their outdoor stage as classrooms in order to accommodate a large number of students.
In addition, most classrooms at the school are in dilapidated and unsafe conditions.
"Japan continues to be the Philippines' advocate in achieving sustainable and inclusive growth. We have forged strong ties as we actively work together to uplift the lives of Filipinos through our Official Development Assistance projects, particularly the GGP," Koshikawa said in a speech.
"Though small in scale, we believe that the GGP makes significant contributions in directly empowering local communities by responding to the specific and growing needs of the people," he added.
Education Undersecretary Epimaco Densing III said the grant was a "welcome development" as the Department of Education looks for other sources to address the inadequate number of classroom and school buildings in the country.
"We're very happy because this two-story six-classroom facility once constructed will provide learning facility for at least 240 students in the municipality of Ilog," he said in an interview.
"[W]ith the shortage of classrooms all over the country, we're looking at sources outside of the national budget," he noted, adding that cooperation between the government and foreign partners is another "effective strategy" to close the gaps for students.
Densing said there was a shortage of around 165,000 learning spaces as of end of 2022, translating to "four to five million" affected Filipino students.
The school building contract is one of the four new GGP projects the Japanese Embassy in Manila signed on Thursday.
Also inked were contracts for the procurement of a vehicle to ferry street children from shelter to school and counseling in Lipa, Batangas; a water purification system for Mabato Elementary School in Rosario, Batangas; and the construction of a food processing training center in Bombon, Camarines Sur.
The four grants amount to PHP25.2 million in total. (PNA)