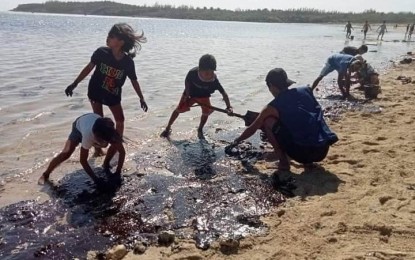 SAN JOSE DE BUENAVISTA, Antique – A group of environmentalists in Antique province is supporting the plan of the provincial government here to demand compensation from the owner of the sunken fuel tanker that caused the oil spill, damaging the livelihood and environment in the municipality of Caluya.
Save Antique Movement (SAM) president Virgilio Sanchez, in an interview on Thursday, said the oil spill has affected the fishing and seaweed industry in the municipality.
"Immediately after we learned about the oil spill affecting already the shorelines of Caluya, we came up with a statement for the local government unit (LGU), particularly of Caluya to hold liable the owner of the motor tanker," Sanchez said.
Sanchez said SAM has many professional members, including lawyers who could assist in the filing of cases.
The organization also calls on other lawyers who could provide free services in the filing of cases for violation of the Republic Act (RA) 9483 or the Oil Pollution Law, RA9275 or Clean Water Act, and RA 8550 or the Fisheries Code.
He said the demand for damages could be had based on the violations of these laws.
"The SAM is glad that the governor has already expressed her intention to demand for compensation on the damages since the fisherfolks could no longer catch fish, crabs, shrimps or gather shells because of the environmental disaster," Sanchez said.
Last March 8, Antique Governor Rhodora Cadiao expressed her intention to demand damages in her media interview after meeting with Caluya Mayor Rigil Kent Lim.
Cadiao added that they will make the demand once the total assessment of the damage is available.
Based on the March 11 report of the Antique Provincial Disaster Risk Reduction and Management Office (PDRRMO), 8, 387 families engaged in fishing and seaweed culture in Caluya were affected by the oil spill.
MT Princess Empress ran aground off the waters of Oriental Mindoro on Feb 28 and eventually sank the following day, causing an oil spill that affected the ecosystem and communities, particularly in that province.
The tanker's owner RDC Reield Marine Services has apologized for the incident and has assured all those affected that it is taking steps to address the problem and minimize its impact, especially on the environment in a statement on March 12. (PNA)