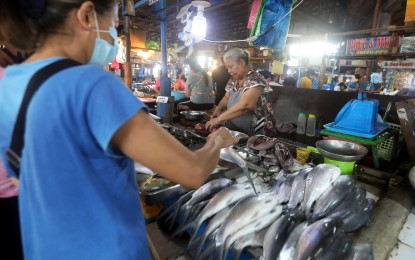 MANILA – The Bureau of Fisheries and Aquatic Resources (BFAR) has assured enough supply of fish for the Holy Week from April 6 to 10.
In a statement, BFAR spokesperson Nazario Briguera said the bureau is not expecting fish supply shortage despite the increasing demand and the oil spill in Oriental Mindoro.
"Dahil nasa peak season tayo ngayon ng fishing activity, we expect na kaya nating punan 'yung supply kahit tumaas ang demand sa Mahal na Araw. Pero hindi namin nakikita na magkakaroon ng pangmalawakang kakulangan sa (supply) ng isda because of the oil spill (Because we are in the peak season of fishing activity, we expect that we can supply the high demand during Lent. We do not see a shortage of fish on a national scale because of the oil spill)," he said.
Briguera was referring to the affected fishing areas in Oriental Mindoro and nearby provinces after the leakage of oil from the MT Princess Empress, which sank off the coast of Naujan town on Feb. 28.
To date, the BFAR has turned over initial relief to affected families in Oriental Mindoro.
On Wednesday, the bureau cited the delivery of 10,000 canned goods, 5,000 noodles, and a thousand 25-kg. sacks of rice.
It said the initial batch is intended to be distributed to 5,000 families.
Meanwhile, the BFAR said it has been conducting interventions to improve the post-harvest equipment of the fishery sector and prevent fish spoilage in the country.
"Current fish spoilage is between 25 to 40 percent because of the shortage in post-harvest equipment, like blast freezers, ice-making machines, cold storage warehouses, and fish landing sites," it added.
Earlier, President Ferdinand R. Marcos Jr., who is concurrent Department of Agriculture chief, announced the establishment of 11 additional cold storage facilities in several ports in the country, which are expected to be operational this year. (PNA)