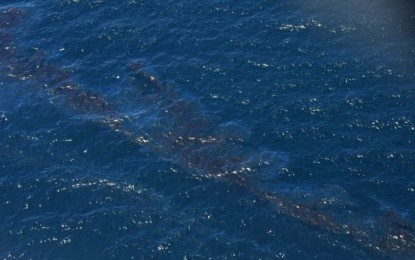 MANILA -- Justice secretary Jesus Crispin Remulla on Thursday said the government is gathering information for the possible filing of complaint against those liable for the sinking of the MT Princess Empress which leaked its cargo of 800,000 liters of industrial oil.
"Ang tawag ngayon ay (It's called) case build up. We are sorting out the evidence so that we can file the proper complaint, collate all the data. But as far as we're concerned, there are possible cases to be filed," Remulla said in an ambush interview.
"This will be filed by the legal office of the Department of Justice (DOJ) and we intend to do this by Tuesday, and sana tapos na by then ang ating pag aaral (and hopefully, by then, we have already finished our evaluation). We will go over the weekend to study this case," he added.
Remulla said the DOJ is looking at every possible angle - environmental damage, health risks, damage to biodiversity, among others – with a planned visit at the sinking site to validate their initial findings and enable them to devise strategies.
He said among the major findings is that the ship was a scrap ship that was rebuilt twice to become a tanker.
Remulla said there were also misrepresentations made with the condition of the vessel, since the owners told the DOJ and the Philippine Coast Guard last Saturday that the vessel was only two years old, which is new by Philippine standards.
"There were misrepresentations made from the start," he said.
The DOJ chief added that initial investigations also suggested that a similar near sinking of the vessel had happened before, and that on the day before the incident, a warning was sent against sailing due to gale conditions.
The MT Princess Empress sank off the coast of Naujan, Oriental Mindoro on Feb. 28 and eventually sank the following day, causing a widespread oil spill into the Tablas Strait that has reached as far as the provinces of Antique and Palawan.
The incident affected nine municipalities in Oriental Mindoro (Naujan, Pola, Pinamalayan, Gloria, Basud, Bongabong, Roxas, Mansalay and Bulalacao); one in Antique (Caluya); and two in Palawan (Taytay and Agutaya); with more than 137,000 individuals affected by the oil spill.
In Oriental Mindoro alone, the DOJ said more than 99,000 people have been affected, 122 of whom have fallen ill. (PNA)