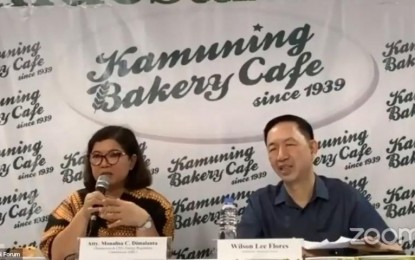 MANILA – The Energy Regulatory Commission (ERC) has assured the public it is implementing its mandate to promote competition and ensure a fair market in the energy sector to protect Filipino consumers from price shocks amid the volatility in electricity prices.
During the Pandesal forum at Kamuning bakery café in Quezon City Thursday, ERC chair Monalisa Dimalanta said while the Department of Energy (DOE) is improving the country's power supply, ERC is also closely monitoring market developments that may push power rates higher.
Dimalanta said the country still benefits from the output of the Malampaya natural gas field, an energy source indigenous to the Philippines, with no additional import costs, such as duties and excise taxes, among others, compared to outsourced fuel.
With the service contract for Malampaya expiring in 2024, the DOE is looking at liquefied natural gas (LNG) terminal projects to sustain power supply.
However, since these terminals will store imported LNG, Dimalanta said consumers will be exposed to volatile global prices.
"We are currently enjoying Malampaya because it's an indigenous source. It has no import costs like duties that are present in imported (LNG) and we are not exposed to volatility of global prices. We lose these benefits if the supply from Malampaya is discontinued. On the ERC side, how do we manage, how do we mitigate that exposure of consumers to the volatility of prices to imported resources," she said in mixed English and Filipino.
Dimalanta also encouraged Filipinos to save and be efficient in their electricity use to manage energy demand.
As prices of commodities rise when demand increases amid limited supply, not saving on electricity can trigger hikes in power rates.
"We need to promote energy efficiency measures, change in behavior. We need to make sure that we only consume energy that we really need," she added.
Meanwhile, former Energy Secretary Jericho Petilla on Wednesday proposed that the government should build its own power plant with a capacity of 500 megawatts that will be used only when there is thinning of supply from private sector's power generation facilities.
DOE Assistant Secretary Mario Marasigan said during the Laging Handa public briefing Thursday the agency is reviewing this proposal as this will require amendments to the Electric Power Industry Reform Act (EPIRA), which privatized the power sector. (PNA)