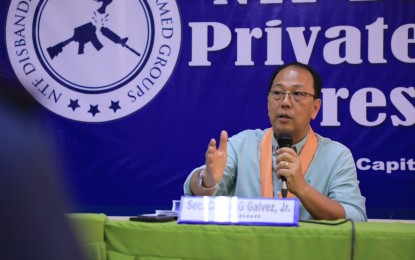 MANILA – Department of National Defense (DND) chief Carlito G. Galvez Jr. reiterated the security sector's commitment to eliminating "peace spoilers" in society.
Galvez made the remark during the 11th oversight committee meeting of the National Task Force for the Disbandment of Private Armed Groups (NTF-DPAGS) on Wednesday.
"Senior Undersecretary Galvez reiterated that the issue of private armed groups in the country was brought to the fore with the recent spate of violence against local chief executives. He assured the public that the DND and the Armed Forces of the Philippines (AFP), along with the PNP (Philippine National Police) and all member agencies of the NTF-DPAGs, remain committed to their mandate of eliminating peace spoilers to ensure that the people can live free of violence and fear thereof," DND spokesperson Arsenio Andolong said in a statement Friday.
Galvez said the security sector would act with utmost dedication to fulfill all tasks necessary to attain this goal and ensure the security of the Bangsamoro region, especially its 63 special geographic areas.
President Ferdinand R. Marcos Jr. earlier directed the DND and the AFP to intensify their support and cooperation in the disbandment of private armed groups in the Bangsamoro region and other concerned areas across the country.
"More than ever, the fulfillment of our mandate is now made more urgent with the directive of President Ferdinand R. Marcos Jr. to dismantle private armies and identify hotspots where local officials are being attacked," said Galvez, who is also the task force's vice chairperson.
"We are hopeful that our efforts and commitments under the Comprehensive Agreement on the Bangsamoro will pave the way for peaceful and violence-free communities."
Meanwhile, Department of the Interior and Local Government chief and NTF-DPAGs chairperson Benjamin Abalos Jr. commended the task force for its swift response to reported lawlessness in areas in the Visayas and Mindanao.
"As we journey towards freeing the Philippines from its long-running gun culture, rest assured that the DILG stands ready to render any necessary assistance for the attainment of our noble objective. Let us continue working together in tearing down the walls of divisiveness and animosity of partisan politics as we move towards giving our kababayans the peaceful and thriving communities they deserve," Abalos said.
Acting Presidential Adviser on Peace, Reconciliation and Unity Secretary Isidro Purisima likewise expressed the agency's steadfast commitment to helping create the conditions where a just and lasting peace could take root and flourish in the Bangsamoro.
"We will work tirelessly to ensure that the jointness and synergy of the efforts and the mutual trust developed between the government of the Philippines and the Moro Islamic Liberation Front are maintained and strengthened," Purisima said. (PNA)