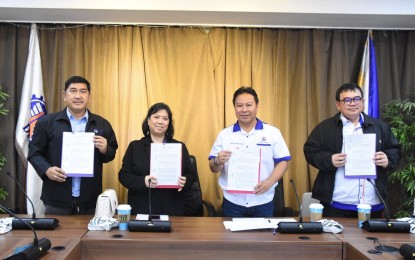 MANILA – Over 300 informal settler families (ISFs) who would be affected by major flood-control projects in Metro Manila are assured of proper relocation to decent housing.
This, after the Department of Public Works and Highways (DPWH) and the National Housing Authority (NHA) signed agreements that will ensure dwelling places for 350 ISFs from the cities of Malabon and Manila.
The housing projects amount to PHP340.60 million.
Based on the agreements signed on March 15, the DPWH will release/transfer to NHA the amount of PHP283.6 million to fund the four buildings for the resettlement of 274 qualified ISFs from eight villages in Malabon.
Another PHP56.78 million will be transferred to NHA for an additional 76 ISFs in Manila.
In a statement Friday, the DPWH said the signing was attended by DPWH Senior Undersecretary Emil Sadain, Project Director Ramon Arriola III of the DPWH Unified Project Management Office - Flood Control Management Cluster, NHA-National Capital Region (NCR) North Sector Office manager Jovita Panopio and NHA-NCR West Sector officer-in-charge Daniel Cocjin.
According to Sadain, the signed memorandum of agreement will expedite the delivery of structural and non-structural flood-control measures by allowing DPWH to release to NHA funding requirement for its relocation/housing program.
"These agreements guarantee that affected ISFs of the Metro Manila Flood Control Management Project Phase 1 will have safer homes with access to basic services and facilities, as well as employment opportunities," he said in a statement.
The Metro Manila Flood Control Management Project Phase 1, jointly funded by World Bank and Asian Infrastructure Investment Bank, aims to modernize existing drainage areas in the NCR by rehabilitating and upgrading an estimated 36 existing pumping stations and constructing 20 new pumping stations.
The project also aims to minimize solid waste in waterways and ensure participatory housing and resettlement for project-affected families. (PNA)