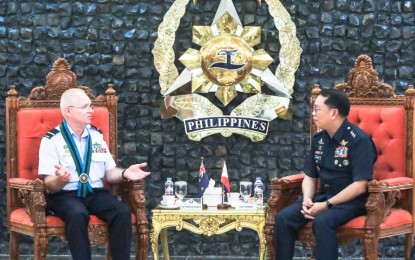 MANILA – Ranking officials of the Armed Forces of the Philippines (AFP) on Friday met with the delegates of Australian Defense Force (ADF) to plan for this year's Indo-Pacific Endeavor 2023 (IPE23) which is scheduled to run in various nations from June to October.
The Philippines is also included in this year's iteration of IPE23, AFP public affairs office chief Col. Jorry Baclor said in a statement.
"Vice Chief of Staff, AFP Lt. Gen. Arthur Cordura met with the IPE23 commander, Air Commodore Anthony McCormack, at the AFP General Headquarters today, 17 March," he added.
Baclor said the ADF team for IPE23 is in the country to plan for the Philippine leg of the activity which is expected to be held in August.
"Primarily, IPE23 will focus on territorial defense and island maneuver operations," he added.
In the meeting, Cordura conveyed the AFP's support to IPE23 and its openness for more engagements with the ADF.
IPE23 is Australia's flagship regional engagement activity with 14 southeast Asian and northeast Indian Ocean countries, including the Philippines.
It will also feature senior leadership engagements, information exchanges, sporting events, seminars, and other capacity-building activities.
Group Captain Lesley Carney, Navy Captain Phillipa Hay, and Commander Andrew Duff joined Commodore McCormack in the meeting.
Australian defense attache Col. Paul Barta and assistant defense attaché Lt. Col. Tim Lopsik were also present.
Also in the meeting were Baclor, Brig. Gen. Fernando Reyeg, Deputy Chief of Staff (DCS) for Operations, J-3; Brig. Gen. Ferdinand Barandon, DCS for Intelligence, J2; Marine Brig.Gen. Noel Beleran, DCS for Training, Education, and Doctrine, J-8; Col. Niceforo Diaz Jr., Executive Officer of the Office of the DCS for Logistics, J-4; Col. Geoffrey Carandang, Secretary of the Joint Staff. (PNA)