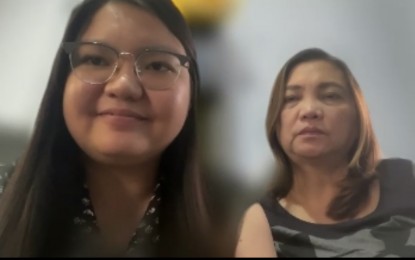 LAOAG CITY – The province of Ilocos Norte is celebrating the achievement of another topnotcher as Aira Cassandra Castro, a summa cum laude graduate of the state-run Mariano Marcos State University in Batac City, topped the March 2023 Physician Licensure Examination.
Castro, 25, a resident of Laoag City, garnered the highest rating of 89 percent among the 2,887 examinees.
Describing herself as a woman with big dreams, Castro said she also wanted to become a lawyer, an archeologist, and an accountant but when she learned that the MMSU has a good track record in biology and medicine, she pursued these instead.
"Nothing is impossible if you always believe in yourself," said Castro as she underscored a "probinsiyana" (someone from the province) like her does not need to go to the big schools in the metro to make her dreams happen.
As a medical scholar of the Ilocos Norte government, Castro said she plans to serve the Ilocano community where she feels most needed.
On top of her priority is to be of service to patients at the Mariano Marcos Memorial Hospital in Batac City and to the medical students of MMSU where she can serve as an inspiration to them to pursue their dreams.
"I did not expect to become the Top 1 but I tried. Still, I was surprised that I was Top 1 because the exam was difficult," she added.
At a press conference via Zoom on Friday, MMSU president Shirley Agrupis said a "big incentive" awaits Castro, adding that she has already instructed the hiring committee of the MMSU to get her on board the faculty of the College of Medicine.
Asked about her parenting style, Aira's mother, Judith, said parents like her should give their 100 percent support to their children in pursuing their dreams.
"We should give our 100 percent support to our children no matter what. Poverty should not be a hindrance to education as there are programs and projects of the government ready to help you," she said.
For the seventh time since the Ilocos Norte's first medical school was established on June 16, 2015, its medical graduates have delivered a 100-percent passing rate in the 2023 exam.
Four other MMSU medical passers namely Doctors Christian Alvin Arca, Neil Justine dela Cruz, Marianne Shem Caraang, and Mida Dorothy Manayon said they are grateful to the consultants, faculty and staff of MMSU-College of Medicine for helping them become doctors.
"They are really focused on their students and showed their care for us," said Manayon, one of the physician passers of the MMSU, on Friday.
Manayon said she plans to pursue her passion in OB gynecology while the others, Agrupis said, plan to join pediatrics, public and family as well as internal medicine and pathology.
"This is the best return on investment of the trust the government has given us. Please give us the privilege to hire you first and be an inspiration to your alma mater," said Agrupis. (PNA)