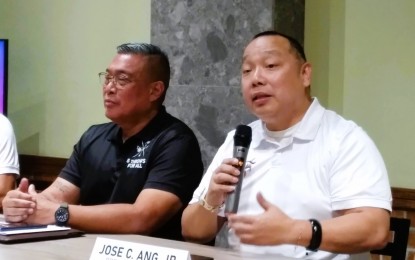 MANILA – Around 500 local athletes are expected to join the 5 Throws-For-All Philippine Masters Athletics Championships scheduled from April 14 to 16 at the PhilSports Track and Field Oval in Pasig City.
This was announced Friday by lawyer Alberto Agra, the program's executive director, along with National Masters and Seniors Athletics Association of the Philippines (NMSAAP) president Jose Ang Jr. and directors Julio Bayaban and Jeanette Obiena, during the tournament's formal launching at the To Ho Panciteria Antigua in Binondo, Manila.
The 5 Throws-For-All is a program which aims to build better throwers and to expand the throwing community.
It envisions a broad base of throwers all over the country who are skilled and competes in shot put, discus throw, javelin throw, hammer throw and weight throw.
The tournament is open to athletes 30 years old and above in the men and women individual, team relay and mixed gender team relay categories.
Events to be contested are 100m, 200m, 400m, 800m, 1,500m, 2,000/3,000m steeplechase, 5,000m, 10,000m, 3,000m race walk, 80m hurdles, 100m hurdles, 110m hurdles, 400m hurdles, high jump, long jump, triple jump, javelin throw, shot put, discus throw, pole vault, hammer throw, 4x100m relay, 4x100m mixed relay, 4x400m relay and 4x400m mixed relay.
The competition will also serve as qualifying for NMSAAP members and non-members to officially represent the country in the 22nd Asia Masters Athletics Championships which the Philippines will host from Nov. 8 to 12 at the New Clark City Sports Complex in Capas, Tarlac.
More than 2,000 athletes from 28 countries are expected to compete at the biggest Masters Athletics Championships in the region.
Meanwhile, the NMSAAP will hold its first competition of the year during the first day of the ICTSI Philippine Athletics Championships slated March 21-26 in Ilagan City, Isabela.
Except for world No. 3 pole vaulter EJ Obiena and William Morrison III (shot put), all medalists at the 2022 Vietnam SEA Games are seeing action in the ICTSI Philippine Championships.
They are Fil-Ams Eric Cray (gold, 400m hurdles), Kayla Richardson (gold, 100m; bronze, 200m), Kyla Richardson (silver, 200m), Robyn Brown (bronze, 400m hurdles), Alyana Nicolas (pole vault) and Umajesty Williams (200m and 400m).
Also seeing action are homegrown Clinton Kingsley Bautista (gold, 110m hurdles), Hocket delos Santos (silver, pole vault), Janry Ubas (silver, long jump; bronze, decathlon), Aries Toledo (silver, decathlon), Mark Harry Diones (silver, triple jump), Christine Hallasgo (silver, marathon), Sarah Dequinan (silver, heptathlon), Jelly Dianne Paragile (bronze, 100m hurdles), Joida Gagnao (bronze, 3000m steeplechase), Evalyn Palabrica (bronze, javelin throw), Alfrence Braza (bronze, 1500m), Melvin Calano (bronze, javelin throw), Sonny Wagdos (5000m); and Edgardo Aljean, Bernalyn Bejoy, Joyme Sequita and Jessel Lumapas (bronze, 4x400m mixed relay).
Philippine Sports Commission chairman Richard Bachmann is the guest of honor, while long jump queen Elma Muros-Posadas will carry the torch during the opening ceremony at the Ilagan City Sports Complex. (PNA)