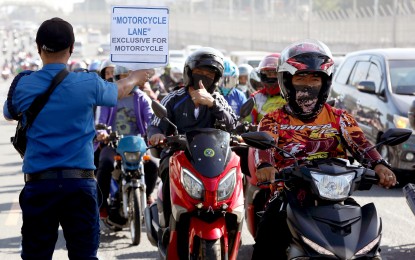 MANILA – The dry run of the exclusive motorcycle lane along Commonwealth Avenue is extended for another week to give way to the road patching works and for motorists to get familiar with the new policy.
In a news release issued Friday, Metropolitan Manila Development Authority (MMDA) acting chair Don Artes said the Department of Public Works and Highways would continue its patching works along the area that started last week, in response to the request of the MMDA based on the social media concerns received by the agency from motorists that the highway has uneven portions and has potholes.
The exclusive motorcycle lane along Commonwealth Avenue runs from Elliptical Road to Doña Carmen and vice versa.
"With another week of dry run, we hope to inform more motorists to avoid confusion before full implementation," Artes said.
There have been 9,757 flagged down motorcycle riders and four-wheel private vehicle drivers from March 9 to March 16; 7,584 of which are private vehicles while 2,173 are motorcycles.
Aside from the road patch works, the MMDA is also eyeing to install reflectors and solar street lamps to light up the area that would help avoid accidents.
The designated motorcycle lane is located on the third lane from the sidewalk and is aimed to reduce motorcycle-related road crash incidents and ensure smooth traffic flow along Commonwealth Avenue. (PNA)