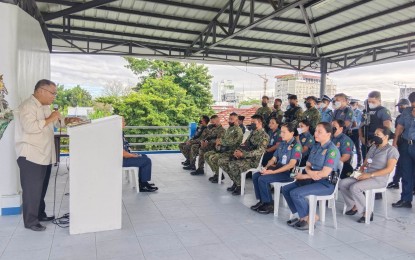 DUMAGUETE CITY – Morale is still up among officials and members of the Philippine National Police (PNP) in Negros Oriental province despite a major revamp after the March 4 killing of Governor Roel Degamo and eight others, an official said Friday.
"There are no indications that our personnel are experiencing low morale in the midst of the series of gradual transfers taking place in the province," said PNP provincial director, Col. Reynaldo Lizardo, in an interview.
Lizardo said despite the massive reassignments, uniformed personnel continue their day-to-day functions without let-up.
On the current PNP deployment status in the province, Lizardo said they will just follow the directives from higher headquarters.
Police activities continued, such as conducting checkpoints, various programs and projects, and even undertaking a Squad Weekly Interactive Meeting.
"We at the lower level will just follow instructions. After all, that is what we were taught to do, as long as it is legal," he said. "We also cannot question the wisdom of our superiors," he added.
Following the assassination of Degamo, the entire 75-member Bayawan City police force was relieved, with Lt. Col. Stephen Amamaguid named the new chief, replacing Lt. Col. Rex Moslares.
On March 8, 56 police officers from Sta. Catalina town were also ordered transferred with a new police chief designated.
The massive relief of police personnel from Negros Oriental came following the creation of a Special Investigation Task Group that is primarily tasked to investigate the assassination of Degamo.
Department of the Interior and Local Government Secretary Benjamin Abalos Jr. earlier said replacing the entire Negros Oriental police force is part of the government's efforts to restore peace and order in the province and the people's trust in the uniformed personnel.
Degamo was meeting with constituents in his residential compound in Pamplona town on March 4 to distribute aid when at least 10 armed men barged in and indiscriminately shot them.
Lizardo said Negros Oriental police force finds consolation that it was able to immediately arrest some of the suspects hours after the attack, alongside their military counterparts.
Four suspects are now under the custody of the Department of Justice while the fifth one died after allegedly shooting it out with government troops.
Lizardo said there was no further word yet from national headquarters on the relief or transfer of more Negros Oriental police personnel. (PNA)