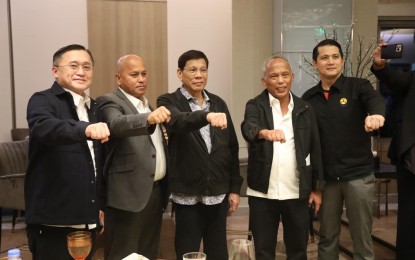 MANILA – It should be innate for his partymates in Partido Demokratiko Pilipino - Lakas ng Bayan (PDP-Laban) to support his push to amend the economic provisions of the Constitution, Senator Robinhood Padilla said on Friday.
As the sitting vice president of the party, Padilla said his thrust is in accordance with the party's aspiration so he expects the PDP-Laban to back him up.
"Kasi ako ay sumali sa partido para palakasin ang party system sa Pilipinas. Kung ang party system sa Pilipinas ay magiging bolahan lang, magiging independent na lang po ako kasi ang alam ko po, kaya may partido ibig sabihin kayo ay nagkakaisa (I joined the party to strengthen the party system in the Philippines. But if the party system will be used just to fool around, I'd rather be just independent because what I know is that in a party, there should be unity)," Padilla said in an interview via Zoom.
"Kung ako mismo sa partido kailangan pa akong manligaw ng kapartido ko malabo yata yan. Siguro ang aking opinyon ay ang kapartido ko dapat lagi kong kasama lalo sa usaping Cha-cha [Charter change] (If I myself still needs to convince my partymates, that's unlikely. Maybe my opinion is that my partymates should side with me, especially on matters like Cha-cha)," he added.
On Thursday, Padilla's partymate Senator Francis Tolentino said PDP-Laban is scheduled to meet on March 21 to discuss the party's stand on the proposed measures to amend the Constitution.
PDP-Laban, which is chaired by former President Rodrigo Duterte, is currently being led by Palawan Rep. Jose Alvarez as its president.
Tolentino is currently sitting as the party's vice president for Luzon; Padilla as the executive vice president; Senator Ronald Dela Rosa as vice president for Mindanao; and Senator Christopher Lawrence Go as auditor.
Under the PDP-Laban's vision, the country could have "a peaceful and democratic way of life to ensure the establishment and maintenance of a Filipino society characterized by freedom, solidarity, justice, equity, social responsibility, self-reliance, efficiency, and enlightened nationalism under a federal system of government."
Padilla, who chairs the Senate Committee on Constitutional Amendments and Revision of Codes, had just wrapped up the panel's third public hearing on Thursday held in Cebu City and scheduled to conduct another round of hearings on March 20 and March 22 to discuss with counterparts from the House of Representatives House Bill 7352 or the Resolution of Both Houses No. 6, the measure that calls for a constitutional convention to amend the 1987 Constitution. (PNA)