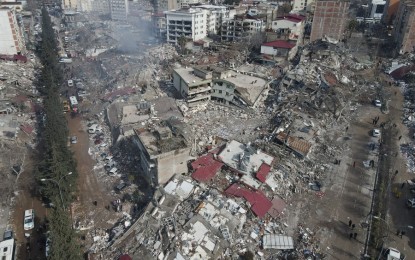 ANKARA -- An official report released on Friday estimated that the twin earthquakes that hit southern Türkiye on Feb. 6 cost approximately 2 trillion Turkish liras (about USD105.2 billion) for the country.
The report, announced by Türkiye's Treasury and Finance Ministry and prepared by the presidency's department of strategy and budget, predicted that the financial burden caused by the tragic tremors could reach approximately 9 percent of the national income in 2023.
The study noted that the support expenditures made to the earthquake area cost a total of 351 billion liras (about USD18.5 billion) in national income.
Housing damage took the lion's share in the earthquake's total burden on the Turkish economy at 54.9 percent, and the monetary value was calculated as 1.07 trillion liras (about USD56.4 billion).
The second largest cause of damage loss was the destruction of public infrastructure and service buildings, with an estimated 242.5 billion liras (about USD12.7 billion).
Private sector damage, excluding housing, was calculated as 222.4 billion liras (about USD11.7 billion).
This item included damage to manufacturing, energy, communication, tourism, health, and education sectors.
A magnitude 7.7 earthquake struck Türkiye's southern province of Kahramanmaras at 4:17 a.m. local time (0117 GMT) on Feb. 6, followed by a magnitude 7.6 earthquake in Kahramanmaras province at 1:24 p.m. local time (1024 GMT).
The death toll from the quakes, which affected 11 provinces of Turkey, exceeded 48,000 while leaving tens of thousands of people homeless. (Xinhua)