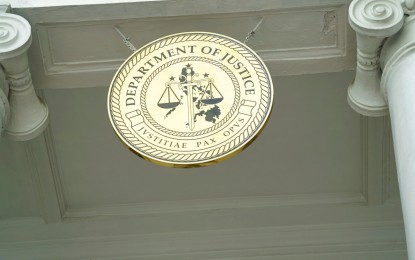 MANILA – The Department of Justice (DOJ) on Saturday said it would place under the lookout bulletin individuals being linked to the killing of Negros Oriental Governor Roel Degamo.
Justice Undersecretary Mico Clavano said the move is part of further precautions while investigating the March 4 gun attack that killed Degamo and eight others and the wounding of several others in Pamplona town.
"We have taken precautions and will take further precautions because the cases are increasing," Clavano said at the Saturday News Forum at Dapo Restaurant in Quezon City.
The department, he said, is taking concrete steps to solidly seal the case against the suspects, adding that they are now discussing with the International Police (Interpol) the possibility of placing the suspects on Interpol's blue notice.
"So all those that are in relation to the Degamo slay. We have taken concrete steps to issue an international lookout bulletin, we have discussed putting people on the Blue Notice," Clavano added.
It would be easier for DOJ to monitor the whereabouts of the suspects when they are placed under the lookout bulletin or Blue Notice, he added.
Interpol's Blue Notices are usually issued to collect additional information about an individual suspected of committing a crime or a person holding information about a crime.
"As of right now, yes, they can go out (of the country) because we don't have a compulsory process where we can force them to stay here in the country," he added.
There are at least 10 people who are being investigated, Clavano said, referring to gunmen or those who were directly involved in the assassination, drivers and lookouts, handlers and middlemen down to masterminds.
In a related development, the DOJ has dismissed one illegal possession of firearms complaint filed against Negros Oriental 3rd District Rep. Arnolfo Teves, who is also being linked to Degamo's assassination.
Teves has been out of the country since February and has reportedly refused to come back, citing threats to his life.
Clavano said the complaint was junked because it lacked evidence.
"If the case is flimsy, especially in this case where there is no such thing as conspiracy to possess firearms, the DOJ dismissed it because there is no basis at all," Clavano said.
"I just want to clarify that, yes, the case was dismissed but that doesn't mean that his record is clear. He has many future cases of illegal possession of firearms and explosives including his children and he is still considered one of the suspects, as a mastermind behind the slaying of Governor Degamo," he added. (PNA)