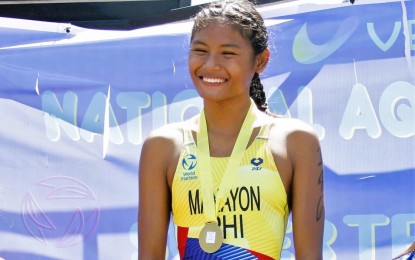 IMUS, CAVITE – Cebu's pride Karen Andrea Manayon and Matthew Justine Hermosa were crowned elite champions in the National Aquathlon Open and Super Tri Kids Championships at the Ayala Vermosa Sports Hub here Sunday.
Manayon, who hails from the town of Talisay, finished the 500m (swim) and 1.5km (run) race in 17 minutes and 36 seconds.
Lauren Plaza checked in second, followed by Katrina Almuete Salazar.
"I was not expecting to win but I have to do the work," said Manayon. "I'm not really confident in swimming. I was having second thoughts so I gave it all in running."
Manayon was a bronze medalist in the sprint distance of the National Age Group Triathlon Series at Subic Bay in January.
Last year, she competed in Kazakhstan, Jordan and South Korea.
Hermosa topped the men's side with a time of 15 minutes and 20 seconds, beating Irienold Medalla (15:47) and Renz Wynn Corbin (16:31).
Like Manayon, Hermosa also competed in Subic and came second behind Filipino-Spanish Fernando Jose Casares.
Meanwhile, Dayshaun Ramos and Moira Frances Gabrielle Erediano ruled the junior elite category of the tournament organized by the Triathlon Association of the Philippines (TRAP) and sponsored by Asian Centre for Insulation Philippines, Inc., Standard Insurance and Philippine Sports Commission.
Ramos registered 15:54 to claim the gold medal in the men's division, prevailing over Connor Hodges (16:21) and Johnmichael Lalimos (16:33).
Erediano dominated the women's division in 19:54 with Sophia Capistrano checking in second (20:19), followed by Wella Mae Coronado (20:21).
Other winners were Darell Johnson and Sinagtala Cuevas (Youth 13-15); Pio Mishael Latonio and Maria Isabella Raagas (11-12); Julio Luis Malaluan and Jovie Yzelle Calisog (9-10); Richard Navo III and Athena Masadao (7-8); and Brisbane Ledesma (boys 6 years old and under).
Next in the TRAP calendar is the Subic International Triathlon on April 22 and 23; Tagudin Triathlon and Duathlon in Ilocos Sur on July 22 and 23; and Asian Duathlon Championships in New Clark City, Tarlac on Oct. 28 and 29. (PNA)