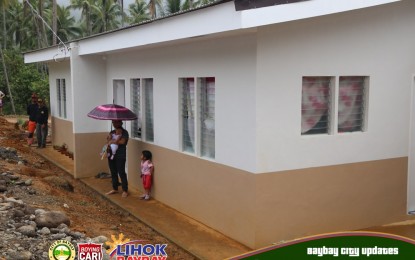 TACLOBAN CITY – The 579 families displaced by a killer landslide in Baybay City last year have already moved from evacuation centers to their new relocation sites, the city government reported on Monday.
Baybay City Mayor Jose Carlos Cari said the city council had immediately allocated funds to acquire a land to build houses for the victims. Temporary shelters, however, have been provided through the funding of the Office of Civil Defense (OCD), International Organization for Migration (IOM), United States Agency for International Development (USAID).
The OCD and non-government organizations rushed the construction of shelters after the Mines and Geosciences Bureau (MGB) of the Department of Envionrment and Natural Resources (DENR) declared that some of the communities affected by the landslide were no longer fit for habitation and declared the area as "danger zone."
Of the 579 families hard hit by the April 10, 2022 landslide during the onslaught of Tropical Depression Agaton, 40 are now in permanent houses, 466 in temporary shelters, and 73 managed to build their own houses outside the danger zones.
"We urge landslide survivors to go on with their lives and be thankful with what they have, learn to live harmoniously with each other, and work together towards the improvement of their new community," Cari said.
The first 40 permanent houses constructed by the Baybay City local government in Higulo-an village are for the displaced families of Mail-hi village.
Temporary shelters, meanwhile, were built in the villages of Maganhan, Kambonggan, Kantagnos, Bunga, Maypatag, and Villa Mag-aso.
Families in temporary shelters will move to permanent relocation sites as soon as houses are completed.
"The city government is committed to support these families by improving the amenities in their communities, provide better accessibility, and ensure water and electricity supply," Cari added.
The landslides in Baybay have killed at least 128 people with over a hundred still missing.
Among the factors that triggered landslide occurrences in Leyte province during the onslaught of Tropical Depression Agaton include geology, topography, soil type, climate, and excessive rainfall. (PNA)