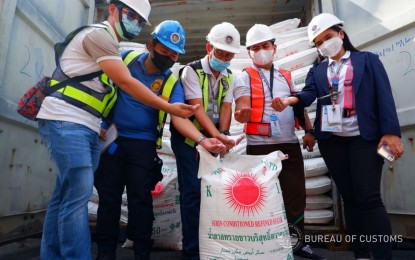 MANILA – The Bureau of Customs (BOC)-Port of Subic recently apprehended 30 20-footer containers of misdeclared sugar from Hong Kong with an estimated value of PHP86 million.
In a statement on Monday, the bureau said Port of Subic District Collector Maritess Martin issued Pre-Lodgment Control Orders after receiving derogatory reports from the BOC Intelligence Group (IG) and Enforcement Group (EG), against the containers declared to contain slipper outsoles and styrene butadiene rubber but suspected to carry refined sugar.
The BOC officers conducted a non-intrusive examination and 100 percent physical examination, which yielded 15,648 bags/sacks of refined sugar on March 15.
The assigned examiner recommended the issuance of a warrant of seizure and detention.
Martin together with Department of Agriculture (DA) Assistant Secretary James Layug, and representatives from the Sugar Regulatory Agency were present during the physical examination.
The BOC already issued Warrants of Seizure and Detention (WSD) against the shipments in violation of SRA and BOC Joint Memorandum Order No. 04-2002 dated Aug. 16, 2002, and Section 1400, in relation to Section 1113 (f) of the Republic Act No. 10863, otherwise known as the Customs Modernization and Tariff Act (CMTA).
On the other hand, Commissioner Bienvenido Rubio lauded port officials for the seizure of the illicit goods.
"The Bureau of Customs' continuous efforts in combating illicit goods at the border has been very effective with the help of our partner agencies. With this, I'd like to commend the Port of Subic and remind them to remain steadfast in protecting our borders," he said.
For her part, Martin warned those involved in illegal activities that the Port of Subic will not allow deceitful smugglers to bring in any illegal or illicit goods.
The bureau's IG and EG are head by Deputy Commissioners Juvymax Uy and Teddy Raval, respectively. (PNA)