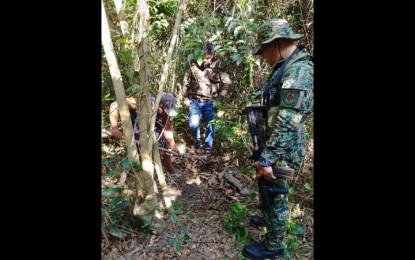 CITY OF SAN FERNANDO, Pampanga – Government troops have recovered an arms cache belonging to communist rebels in Cuyapo town, Nueva Ecija province over the weekend.
In his report on Monday, Col. Richard Caballero, director of the Nueva Ecija Police Provincial Office, said combined police and military personnel conducted an operation in Barangay Bonifacio on Sunday afternoon that led to the discovery of one vintage bomb, three M203 grenade launchers, 62 rounds of ammunition for 7.62-caliber assault rifle and 44 rounds of ammunition for 5.56-caliber rifle.
Caballero said the troops acted on information from a former member of a communist terrorist group who voluntarily surrendered last year.
"Ka RJ, a former member of the communist terrorist group under Josefino Corpuz command operating in the different areas of Nueva Vizcaya and Nueva Ecija in 1996-2002, revealed the location of war materials," he said in a statement.
He said the recovered war materiel are now under the custody of the Nueva Ecija-Provincial Explosive Ordnance Disposal Canine Unit for proper handling and disposal.
Meanwhile, Caballero also reported the seizure of a firearm and ammunition from a member of a notorious criminal group in Laur town, also on Sunday.
He said a search warrant was implemented against a 51-year-old member of the Azarcon Criminal Group in Barangay Siclong that led to the seizure of one homemade .38-caliber revolver and assorted ammunition.
"The Azarcon criminal group has been involved in robbery-holdup, gun-for-hire, and land-grabbing activities operating in areas of Laur, Gabaldon, and Bongabon," he said.
The suspect will be charged for violating Republic Act 10591, the Comprehensive Firearms and Ammunition Regulation Act.
"Criminal groups have no place in our society. We encourage the community to report any suspicious illegal activities in their locality," Caballero said. (PNA)