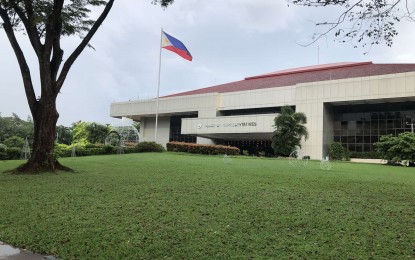 MANILA – The House of Representatives on Monday signed a memorandum of understanding (MOU) that would assist victims of gender-based violence, particularly House employees and their family members.
The House, the Quezon City Protection Center (QCPC) under the Office of Mayor Joy Belmonte, and the Integrated Bar of the Philippines (IBP)-Quezon City Chapter took part in the signing of the tripartite "historic" agreement to provide legal, psychological and shelter assistance to such victims at the House's Romualdez Hall.
TINGOG Party List Representative Yedda Marie Romualdez, speaking on behalf of Speaker Ferdinand Martin Romualdez, expressed full support for this undertaking, as it would create a powerful network to provide timely intervention for House employees and their children who have suffered or are still suffering from the effects of violence and abuse.
"I am very much honored to witness and be a part of this historic signing of the memorandum of understanding by the House of Representatives, the Quezon City local government, and the Integrated Bar of the Philippines – Quezon City Chapter, to provide comprehensive and holistic support to House employees who are victims or survivors of gender-based violence," Romualdez said.
"It fills me with pride to be a part of an institution that values the welfare of its employees and ensures that they receive the best care and support when they need it the most," she added.
The MOU was signed on behalf of the lower chamber by House Secretary General Reginald Velasco, Atty. Marcelino Michael Atanante for IBP-QC Chapter and Councilor Juan for the QCPC.
Under the agreement, the House would provide its employees and their children who are victims of gender-based violence safe and supportive work environment and culture, access to hotlines and other crisis resources, psychological and psychiatric counseling and therapy, along with medical and healthcare services, among others.
The IBP QC-Chapter will take care of the necessary legal assistance, while the QCPC will provide safe and secure emergency shelter services as well as programs for the healing, recovery, rehabilitation and reintegration of the victims.
Romualdez said the ceremonial signing is another clear statement that the House of Representatives "does not only talk and make policy – we also walk the talk, and act as needed, providing immediate solutions to the problems at hand, always in the best interests of the Filipino people".
"Let me assure everyone now: so long as I am Speaker, the House of Representatives shall remain a safe workspace for everyone," he added. (PNA)