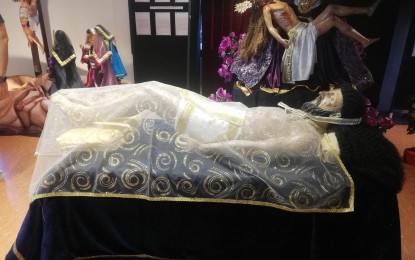 SAN JOSE DE BUENAVISTA, Antique – Thirty-one religious images of various sizes are on display at the galleries of the provincial capitol here as part of the Lenten exhibit, "Panaad: Piety under the Splendour of Madja-as," to showcase the rich ecclesiastical art in Antique province.
Provincial Tourism and Cultural Affairs Office consultant Niklaus delos Reyes Torres, in an interview on Monday, said for the first time they are featuring religious images from the Roman Catholic and the Iglesia Filipina Independiente or the Aglipayan Church. The exhibit will run up to March 25, 2023.
"There are right now 31 images that are being featured at the exhibit with the Mater Dolorosa under the care of the family of Governor Rhodora J. Cadiao as the host image," Torres said.
The host image, which is about 70 to 80 years old and used to be owned by former Vice Governor Lolita Cadiao, is joined by six other revered Dolorosas from various religious families in the province.
"The oldest image, however, is the Santo Entierro of the Javier-Pagtanac family that is already about 150 years old," Torres said.
The Santo Entierro is a wooden symmetrical image of the dead Jesus lying down with a beard carved like "pinansit" or strands of noodles.
Rosanette Pagtanac-Juadiong, who takes care of the image, said the image was saved by a member of their family when the Roman Catholic Church in the municipality of Hamtic was burned down during World War II.
The image that has been their source of consolation whenever they have problems forms part of the religious procession every Good Friday.
Also featured at the exhibit is the Crucifixion Tableau which dates back to the Spanish era that is owned by the Tubianosa family, an Aglipayan.
The Crucifixion Tableau is a unique interpretation of the scene at Calvary during the last moments of the passion and death of Jesus Christ. (PNA)