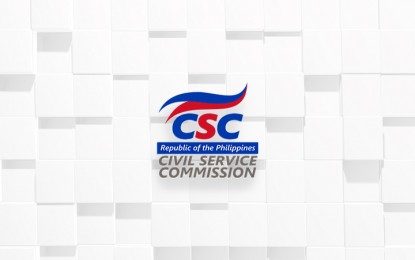 MANILA – The Civil Service Commission (CSC) on Monday said preparations are in place for the Career Service Examination – Pen and Paper Test (CSE-PPT) for 403,567 examinees on March 26.
The CSC said the number is more than double the 147,877 registrants of the Aug. 7, 2022 exams, prompting the agency to assign 94 testing centers nationwide to accommodate the large number of examinees.
Of these, a total of 350,645 individuals or 86.89 percent of the total number of examinees will take the CSE-PPT for professional level, while 52,922 or 13.11 percent are expected to take the subprofessional test.
"Gaya ng ating inaasahan, halos kalahating milyon ang nakapag-register para sa darating na pagsusulit ngayong Marso. Dahil dito, nagtalaga kami ng karagdagang testing centers upang maayos na ma-accommodate lahat ng examinees. Pinapayuhan namin ang lahat ng examinees na basahin at intindihing mabuti ang Examination Advisory No. 2, s. 2023 na makikita sa aming website (As expected, almost half a million individuals registered for the upcoming exams. Because of this, we opened additional testing centers to adequately accommodate all examinees. We advise all examinees to read and fully understand Examination Advisory No. 2, s. 2023 that can be found in our website)," CSC Chairperson Karlo Nograles said in a news release.
The CSC said the testing venue or school assignment may now be generated using the Online Notice of School Assignment or ONSA, which can be accessed via erpo.csc.gov.ph/eNOSAv3/.
Examinees are advised to read thoroughly and understand fully the "Examinee's Guide in Taking CSE-PPT", exclusively available for examinees through ONSA, to be oriented with the examination process.
If examinees cannot access the ONSA and still do not know their school assignment one week before the examination day, they should inquire directly with the CSC regional or field office where they filed their application.
Examinees are encouraged to visit or conduct an ocular inspection of their assigned school before the day of examination to be familiar with the location and its route/direction, means of public transport, and travel time.
Reminders
The CSC said wearing of face mask shall be observed at all times. Examinees will not be permitted to enter the testing venue without a face mask.
The "no ID (identification) card/document, no Exam" policy shall be strictly implemented, the CSC said.
Examinees must present a valid ID card on examination day, preferably the same one presented during the filing of application.
If the ID card was lost or is unavailable, the examinee must present any of the following: driver's license/temporary driver's license (official receipt must be presented together with old driver's license; receipt alone is not allowed)/student driver's permit; passport; Professional Regulation Commission license; SSS or GSIS UMID); voter's ID/certification; BIR/taxpayer's ID (ATM type/TIN card type with photo); PhilHealth ID (must have the bearer's name, clear picture, signature and PhilHealth number); company/office ID; school ID; police clearance/clearance certificate (with photo); postal ID; barangay ID; NBI clearance; seaman's book; HDMF transaction ID; PWD ID; solo parent ID; senior citizen's ID; or Philippine Identification (PhilID) Card.
All ID cards must still be valid.
Examinees who were not able to submit a certificate of consent/release/waiver during the filing of application must also bring one on exam day.
The CSC emphasized that examinees should bring their own black pen/s to be used in answering the test.
Pencils, gel pens, sign pens, fountain pens, friction pens and other colors of ball pen are not allowed.
Borrowing of black ball pen/s is also prohibited as a health precaution.
Examinees may bring alcohol or hand sanitizer that is not more than 100 ml in size, as well as water in a clear/transparent container, candies or biscuits.
However, drinking and eating will only be allowed outside the testing room and only upon the approval of the room examiner.
The CSC advised examinees to be at their assigned school not later than 6:30 a.m. or as required by the CSC regional/field office concerned.
The testing venue shall be closed to examinees at exactly 7:45 a.m. and those who will arrive later than the said time will not be admitted to take the test.
Examinees should be in proper attire on examination day, preferably plain white shirts/tops.
Sleeveless shirt/blouse, shorts/short pants, "tokong" pants, ripped jeans, and slippers are not allowed.
Long hair must be tied.
Scope of examination
The Professional test consists of 170 items with a time limit of three hours and 10 minutes.
The questions, both in English and Filipino, cover: Verbal Ability (vocabulary, grammar and correct usage, and correct reasoning of thought process); Numerical Ability (number sequence, basic operation, and word problem); and Analytical Ability (word analogy and logical reasoning).
Meanwhile, the Subprofessional exam consists of 165 items with questions on verbal ability, numerical ability and clerical ability. The time limit is 2 hours and 40 minutes.
Both tests will also cover general information questions about the Philippine Constitution, Code of Conduct and Ethical Standards for Public Officials and Employees, Peace and Human Rights Issues and Concepts, and Environment Management and Protection.
The complete text of Examination Advisory No. 2, s. 2023 may be accessed from the CSC website www.csc.gov.ph. (PNA)