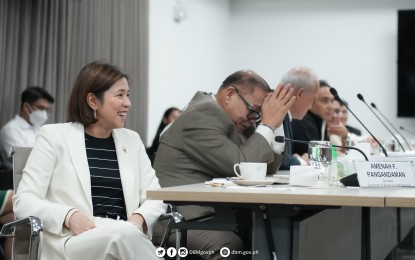 MANILA – The Department of Budget and Management (DBM) welcomed the news that the bill creating the proposed Maharlika Investment Fund (MIF) reached the Senate plenary on Monday.
The measure reached the Senate floor three weeks after the committee ended its hearings on the MIF bills.
DBM Secretary Amenah Pangandaman lauded Senator Mark Villar, chair of the Senate Committee on Banks, Financial Institutions, and Currencies, for sponsoring Senate Bill No. 2020 establishing the MIF Act.
"We commend Senator Villar on his sponsorship of Senate Bill No. 2020. This is a testament to his clear vision for economic growth for the country," she said in a statement.
She said the DBM maintains its strong support for the passage of the MIF Act, saying it will greatly aid the country in "increasing its fiscal space, catalyzing economic growth and ultimately, achieving the goals outlined in the Medium-Term Fiscal Framework, the 8-Point Socioeconomic Agenda, and the Philippine Development Plan 2023 to 2028."
"More importantly, present and future generations will reap these benefits afforded by the MIF Act," the DBM said.
The DBM likewise vowed to continue to offer technical assistance to legislators to ensure the integrity of the MIF, while upholding the rule of law and respecting the process of legislation.
Under SB 2020, the initial capitalization will come from the investible funds of the Land Bank of the Philippines and the Development Bank of the Philippines; dividend remittances of Bangko Sentral ng Pilipinas; national government share of income from Philippine Amusement and Gaming Corporation; and proceeds from privatization and transfer of assets.
In his sponsorship speech, Villar said the establishment of the MIF will help the country attain economic transformation, growth and sustainability.
He assured that the creation of the MIF, as well as the management, investment, and use of its proceeds, will adhere to the principles of "good governance, transparency, and accountability."
He said several layers of oversight will be put in place.
"Not only will this promote effective intergenerational management of the country's financial resources, but more importantly, improve the welfare of the future generations of Filipinos," Villar said.
In January, President Ferdinand R. Marcos Jr. led the soft launch of the MIF in Davos, Switzerland, on the sidelines of the World Economic Forum.
He said the proposal to create the MIF for the Philippines gained support from WEF participants, as Marcos noted that the fund would be used to diversify the country's financial portfolio. (PNA)