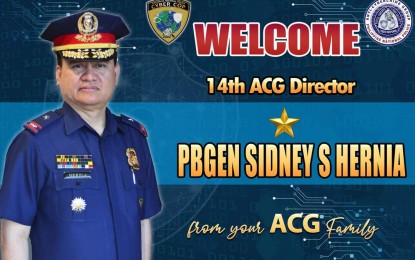 MANILA – Newly installed Philippine National Police-Anti Cybercrime Group (ACG) director Brig. Gen. Sidney Hernia vowed a stronger campaign against cybercriminals and their activities.
Hernia, the unit's 14th director, stressed the need to cultivate a culture of cybersecurity where it becomes a priority at all levels in the PNP.
"As the world is increasingly interconnected, everyone shares the responsibility of securing cyberspace. Enjoined everyone to give utmost priority to implementing cyber-resiliency measures to enhance the organization's capabilities and capacities in addressing cybercrime," Hernia said in his message during the turnover ceremony presided by Lt. Gen. Rhodel Sermonia, Deputy Chief PNP for Administration in Camp Crame on Monday.
Hernia believed that for a police commissioned officer into an all-seasoned leader, he has to come out of his comfort zone and find his nest in other areas where he will have the opportunity to hone his leadership potential and sharpen his skills.
"I know this will be a challenging call to my leadership, but I wholeheartedly accept it," said Hernia, who was a member of the Philippine Military Academy (PMA) Tanglaw Diwa Class of 1992 where he graduated as the Class Magna Cum Laude.
The event was attended by some classmates of Hernia, ACG's Command Group, division chiefs, and district team leaders in the Metro Manila while the different regional chiefs were watching the event online.
Hernia switched posts with Brig. Gen. Joel Doria, who is now the chief of the Police Regional Office-Mimaropa.
Doria, meanwhile, congratulated Hernia and wished him well as he takes on the challenge to continue the fight against all forms of cybercrimes. (PNA)