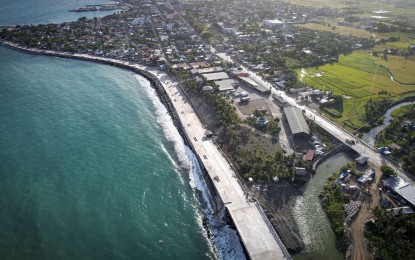 MANILA – The Department of Public Works and Highways (DPWH) on Tuesday said civil works of the 4.80-kilometer road improvement project that will not only decongest traffic but will also protect a coastal area in Virac, Catanduanes, is being fast-tracked.
In his report to Secretary Manuel Bonoan, DPWH-5 (Bicol) director Virgilio Eduarte said the project involves the rehabilitation and reconstruction of Virac's Imelda Boulevard with four bridges, seawall, drainage and slope protection works.
"Civil works on the boulevard is now 78.8 percent accomplished based on total project cost of PHP1.59 billion. Already completed is a total of 3.55 kilometers of road rehabilitation, reconstruction, and bridge construction while 654 meters of road concreting is still ongoing," Eduarte said in a statement.
"However, 1.25-kilometer road concreting with seawall and bridge construction still remains to be funded," the DPWH official added.
The road will also have a separated bike lane to promote active transport beneficial to physical health and sidewalk and street lights for road safety.
The DPWH has so far allocated from calendar years 2017 to 2022 a total of PHP1.32 billion for the rehabilitation of Imelda Boulevard and a balance of PHP266.3 million will be needed to cover remaining civil works to complete the entire project.
Once fully completed, Eduarte said Imelda Boulevard will serve an all-weather alternative route to bypass the busy town proper of Virac.
He added that its seawall component will be able protect the coastal area from storm surges.
Also, the road is expected to become a tourist destination in the province, offering breathtaking scenery of the coast to motorists, cyclist and pedestrians. (PNA)