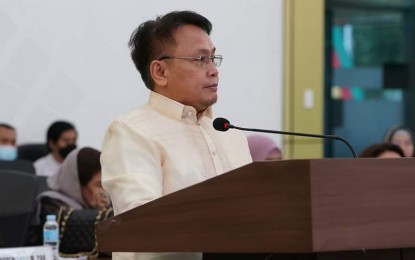 COTABATO CITY – A lawmaker in the Bangsamoro Autonomous Region in Muslim Mindanao (BARMM) has filed a bill in the regional legislative body for the establishment of an office recognizing the rights of senior citizens.
"This bill seeks to establish a mechanism for the beloved senior citizens since all of us will turn 60 years old and become one," Dr. Kadil Sinolinding Jr., regional parliament member and bill author, said in a statement Tuesday.
Sinolinding filed Bangsamoro Transition Authority (BTA) Bill 121, also known as the Bangsamoro Commission for Senior Citizen Act of 2022, before the BTA plenary on Monday.
An ophthalmologist known for his pro bono work with seniors, he said the bill seeks to create an office responsible to ensure that the rights and privileges of senior citizens are respected and fully implemented in the region.
Republic Act 9994 or the Expanded Senior Citizens Act of 2010 defines a senior citizen as some who resides in the Philippines and is at least 60 years old.
Sinolinding said his bill also seeks to provide full support for their overall well-being and full participation in society.
"Let us make life easy and gratifying for our seniors as time will come we will also become like them," he said.
Once enacted into regional law, he said the measure would not only make seniors think of the benefits they get from the government but "will also motivate and encourage them to contribute to nation-building."
It will also encourage their families and the communities in which they live to reaffirm the valued Filipino tradition of caring for senior citizens and provide a comprehensive health care and rehabilitation system for disabled elders, he added.
Under the proposed measure, the core programs of the commission include social pensions, centenarian benefits, and social safety nets.
The Department of Social Welfare and Development currently provides a PHP100,000 cash gift to anyone who reached 100 years old. In the case of BARMM, it is being distributed by the Ministry of Social Services and Development.
Sinolinding said the commission for seniors will also provide social security assistance intended to cushion the effects of economic shocks, disasters, and calamities. These include food, medicine, and financial assistance for home repairs. (PNA)