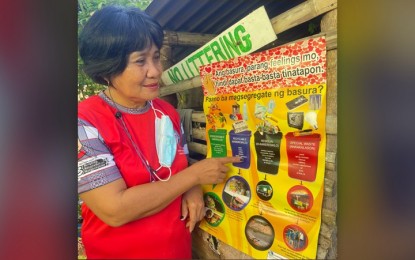 LAOAG CITY – The province of Ilocos Norte is stepping up efforts for the management of its hazardous waste to ensure health and environmental safety.
Provincial administrator Yvette Leynes said on Tuesday that a 20-footer container van with a 4.5-ton capacity is expected to be delivered to the province of Ilocos Norte for the establishment of a preliminary disinfection and storage facility to improve the collection of waste related to the coronavirus disease 2019 (Covid-19).
This was after members of the Sangguniang Panlalawigan unanimously approved Resolution 2023-01-100, granting authority to Governor Matthew Joseph Manotoc to enter into a memorandum of agreement with the Department of Environment and Natural Resources - Environment and Management Bureau (DENR-EMB) for the installation of the facility in the province.
Upon approval of the resolution, Leynes said, "a draft MOA will be signed anytime soon."
She added that as a counterpart, the provincial government would identify a suitable site for the permanent installation of the facility with a minimum area of 50 square meters and manned by at least three personnel to ensure its daily monitoring and operation.
As one of the priority programs of the DENR to ensure local government units' compliance with Republic Act 9003 or the Ecological Solid Waste Management Act, which includes the safe and environmentally sound management of health care waste, at least 81 provinces and 146 cities in the Philippines were shortlisted as recipients of the 20-footer van to aid in the preliminary disinfection and storage of health care waste, which include personal protective equipment, syringes, vials, and gloves.
Waste to be collected come from quarantine facilities, testing facilities, and vaccination sites located in remote areas, including small generators that are not serviced by a hazardous waste transporter and a treatment, storage, and disposal facility.
To date, personnel of the DENR-EMB in Ilocos Norte continues to make rounds in rural and remote villages, urging local authorities to do their share in the management of hazardous wastes.
The DENR has also reminded hospitals and other health care facilities of their obligation to segregate their trash using color-coded bags, disinfect medical waste, and make sure proper transfer procedures are observed.
Under the law, LGUs are primarily responsible for effective and efficient solid waste management, particularly garbage segregation and disposal. Criminal charges and penalties await individuals and establishments that may be found violating RA 9003. (PNA)