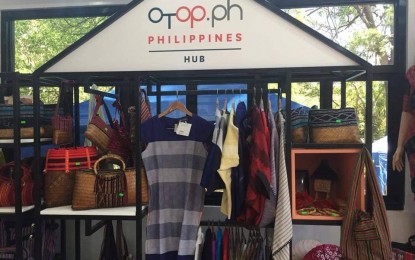 MANILA – The Department of Trade and Industry (DTI) said it has opened a total of 111 One Town, One Product (OTOP) stores nationwide as of Tuesday.
The DTI told reporters in a message that 22 of these stores were established from January 2022 to February this year.
"These were established in partnership with external partners such as Alagang Ayala and CAAP (Civil Aviation Authority of the Philippines) who provided rent-free spaces for some OTOP hubs," it said.
OTOP is a priority stimulus program of the DTI for micro, small and medium enterprises (MSMEs) in different regions in the country.
This aims to promote products and services unique to the culture, community resources and competitive advantage of a locality. Products and services offered in OTOP hubs are those that localities are best known for.
On Monday, the Senate approved Senate Bill No. 1594, or the OTOP Philippines Act of 2023, which institutionalizes providing of package assistance for MSMEs with viable products for OTOP hubs.
The upper house also approved the bill in the third and final reading to support and promote inclusive growth in rural communities by bringing them closer to the mainstream market, helping them innovate and promoting Philippine products both in the local and foreign markets.
In this year's General Appropriations Act (GAA), the DTI has an allocation of PHP97.07 million for the OTOP Next Generation, or OTOP Next Gen, with highest share of the budget to regions of Eastern Visayas (PHP14.13 million), National Capital Region (PHP13.71 million), Cordillera Administrative Region (PHP6.26 million), Caraga (PHP6.55 million) and Calabarzon (PHP5.69 million).
OTOP Next Gen is one of the two components of the DTI's program, supporting the supply side of the program.
The DTI said OTOP Next Gen provides package of assistance to capacitate MSMEs which include product development initiatives, training, referral and other initiatives to help them improve their products in terms of design, quality and volume, among others.
The other component is the OTOP.PH (Philippines Hub), which supports the supply side of the program. This includes providing physical and online channels and market access platforms for OTOP products. (PNA)