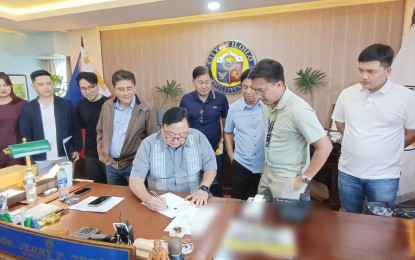 ILOILO CITY – The Land Transportation Franchising and Regulatory Board (LTFRB) on Tuesday officially turned over to the Iloilo City government the approved enhanced Local Public Transport Route Plan (LPTRP) containing the rationalized route mapping and corresponding motor vehicles allowed to ply city streets.
The LPTRP is the core component of the Public Utility Vehicle (PUV) Modernization Act.
"The first to fully implement is Iloilo City and the first also to enhance is Iloilo City. The precedent of our local governments is Iloilo City," said Joshua Gacquit, LTFRB Transportation Development Officer II, during the turnover that was held at the City Mayor's Office.
Mayor Jerry Treñas, in his message, said Iloilo City is brave enough to pursue the plan amid the berthing pains that it has experienced.
Treñas affixed his signature in conformity with the condition outlined in the approval that the LPTRP will only be revised after three years.
In the enhanced LPTRP, only the changes in route structure and route length were approved while the number of authorized units in the original plan will be followed.
Under the original LPTRP, a total of 1,767 modernized jeepneys will be allowed to ply the 25 approved routes.
Currently, 280 modernized jeepneys are plying Iloilo City streets that are still augmented by traditional jeepneys, according to Jeck Conlu, head of the Public Safety and Transportation Management Office.
At the end of the year, around 50 to 60 percent of the 1,767 modernized jeepneys as provided in the LPTRP are expected to operate, he said in a previous interview.
Gacquit, in a follow-up interview, said the signed conformity will be returned to their office for the issuance of the notice of compliance and will again be sent back to the Sangguniang Panlungsod for the amendment of the LPTRP ordinance.
"After the ordinance it will be returned to us for the memorandum circular. After the memorandum circular that is the time that they can now re-implement the LPTRP," he said. (PNA)