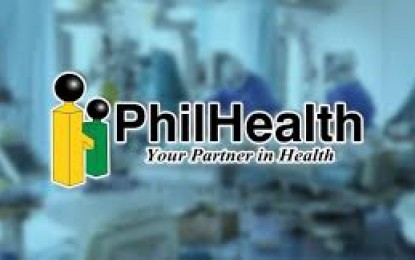 MANILA – The House of Representatives on Tuesday approved on third and final reading a bill giving the President the power to suspend the scheduled increase of premium payments of "direct contributors" to the Philippine Health Insurance Corp. (PhilHealth) and adjust the period of implementation during national emergencies or calamities, or when public interest so requires.
Passed on the strength of 273 affirmative votes, three negative votes, and no abstentions, House Bill 6772 seeks to further amend Section 10 of Republic Act 11223, otherwise known as the "Universal Health Care Act."
Speaker Ferdinand Martin G. Romualdez, the bill's principal author, said the suspension of the increase would result in some savings for millions of government and private sector workers, professionals, self-employed, and other PhilHealth contributors who are still recovering from the pandemic.
He said under the measure, daily wage earners and many employees, who comprise the majority of PhilHealth members, would save at least PHP50 a month or PHP600 a year from their health insurance premium payment if the adjustment were suspended.
Those earning more will naturally save more, he said.
Majority Leader Jose "Mannix" Dalipe, Senior Majority Leader and Ilocos Norte Rep. Ferdinand Alexander Marcos, and Representatives Yedda Marie Romualdez and Jude Acidre of party-list group Tingog Sinirangan co-authored the bill.
The authors said President Ferdinand Marcos Jr. himself has supported calls to defer this year's increase in PhilHealth premiums.
RA 11223 defines "direct contributors" as "those who have the capacity to pay premiums, are gainfully employed, and are bound by an employer-employee relationship, or are self-earning, professional practitioners, migrant workers, including their qualified dependents, and lifetime members."
The term "indirect contributors" refers to "all others not included as direct contributors, as well as their qualified dependents, whose premium shall be subsidized by the national government, including those who are subsidized as a result of special laws."
The law also states that contributions will increase from 4 percent last year to 4.5 percent this year, or from the minimum monthly premium of PHP400 to PHP450. The rate will further go up to 5 percent starting next year.
Based on PhilHealth's computation for this year, they said those earning PHP10,000 and below would pay a premium of PHP450, those with an income of more than PHP10,000 up to PHP89,999.99 would contribute PHP450 to PHP4,050, while those making PHP90,000 or more would chip in PHP4,050.
"While PhilHealth only aims to fulfill and remain faithful to its mandate, imposing a higher premium on Filipinos in these current conditions where most of them are grappling with the pandemic will definitely enforce a new round of financial burden to its members," they said. (PNA)