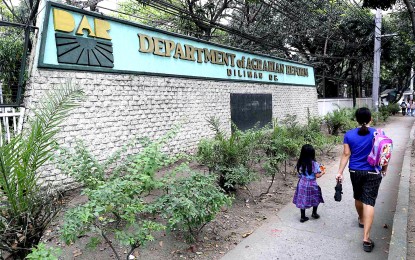 MANILA – The Department of Agrarian Reform (DAR) targets to achieve a 100 percent resolution and compliant rate by acting swiftly on complaints sent through the government's 8888 Citizens' Complaint Action Program.
In a press release on Tuesday, DAR Secretary Conrado Estrella III said he would like to maintain its standing after getting a commendation from the Office of the President for resolving all 479 issues and concerns raised to the agency in 2022.
Estrella announced that he wants to "raise the ante by targeting a 100 percent accomplishment rate in both the resolution and 72-hour compliance".
"We will continue exerting and exhausting all efforts in a timely manner to address issues and concerns affecting the public," he said.
DAR-Clientele Relations Service headed by Director Jason Collado is the office responsible for addressing issues and concerns referred to the department.
Collado recognized the efforts and contribution of the DAR central office frontliners and field offices for swiftly acting on the concerns of its clientele.
"We are happy doing what we ought to do and, that is: 'Serve the Filipino people the best way we can," he said.
From Jan. 1 to Dec. 31, 2022, the DAR received 479 citizens' concerns from 8888. Of the number, 479 tickets, or 100 percent were acted upon, according to 8888 Citizens' Complaint Center head Bernadette Casinabe.
"We would like to commend your efforts in ensuring that all citizens' concerns referred to your office are acted upon on time," Casinabe said in her message to DAR.
She added that of the 479 issues and concerns referred before the DAR, only six were acted upon beyond the three-day notice or 72 hours for a high 98.75-percent compliance rating.
The 8888 Citizens' Complaint Center was established in June 2007 to serve as a mechanism where citizens may report their complaints and grievances on acts of red tape, as defined under Republic Act 9485, otherwise known as the Anti-Red Tape Act, as amended by RA 11032.
It also acts on cases of corruption against any national government agency, government-owned or controlled corporations, government financial institutions and other instrumentalities. (PNA)