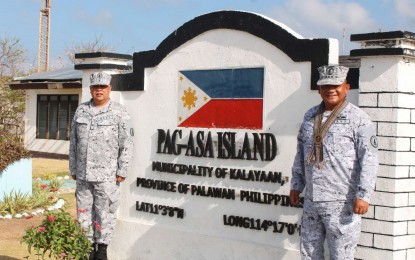 MANILA – Philippine Navy (PN) flag officer in command, Vice Admiral Toribio Adaci Jr., recently visited Pagasa Island and other outposts in the Kalayaan Island Group to reach out to personnel deployed there.
"On March 19, Vice Admiral Adaci Jr. flew to the Kalayaan Island Group and reached out to the personnel stationed at Pagasa, Parola, and Likas Islands," Naval Forces West public affairs office chief, Navy Lt. Joseph M. Ison, said in a statement late Tuesday.
He also visited the Naval Forces West (NFW) and 3rd Marine Brigade headquarters in Puerto Princesa, Palawan on March 17.
"The FOIC (Flag Officer in Command) PN also inspected the naval stations located at Macarascas and Ulugan Bay of the same city on March 18," Ison said.
Adaci also led the ribbon cutting and blessing of the newly constructed administrative and research building at Parola and Likas islands.
"Part of the activities in the island stations are the talk to the troops and handover of emergency kits and foodstuffs," Ison said.
Adaci was accompanied by NFW chief, Navy Commodore Alan M. Javier, on his visits to these island stations.
"The FOIC, PN commended the efforts of our sailors and marines in the different island stations, as well as the Philippine Navy ships and aircraft in the Kalayaan Island Group within the Western Command joint area of operations, in accomplishing their mission and upholding their duties as Defenders of the Western Frontier," Ison added.
Adaci also lauded the Western Command through its commander, Vice Admiral Alberto Carlos, for highlighting the PN's efforts as a multi-capable naval force responsive to the country's defense and development.
Thanking troops
Meanwhile, Navy spokesperson Captain Benjo Negranza, when asked about Adaci's message to naval personnel deployed in these West Philippine Sea outposts, said the PN chief "expressed his gratitude to the troops stationed in the various islands for their unwavering performance of their duties in guarding our island territories."
He also said Adaci's visit was also meant to boost the "morale of our personnel in the frontlines. Also, to see firsthand the situation in the islands."
Negranza also said the visit is not meant to raise tensions in the area.
"The visit is not intended to add to tension. Troop visit is a commander's prerogative to check on his troops and equipment and their readiness to perform their duties," he added. (PNA)