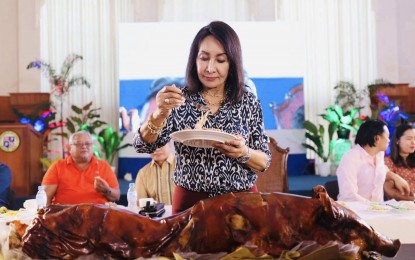 CEBU CITY – Governor Gwendolyn Garcia has issued an executive order outlining the localized biosecurity and control measures to combat African swine fever (ASF) detected in six localities here, including this capital city.
In her Executive Order No. 10 released Tuesday night, Garcia mobilized village officials to form the Barangay ASF Task Force to be chaired by the barangay captain, with a councilman as vice chair and a barangay health worker, animal aide, nutrition scholar and a tanod as members.
The task force will be in charge to facilitate blood sample collection and rapid antigen or antibody testing of pigs showing signs of ASF or classical swine fever (CSF) or hog cholera, and then report cases to the municipal agriculturists or veterinarians.
In a separate statement, the provincial capitol said testing kits, which would be able to identify ASF and hog cholera, would be provided by Prime Care, a private laboratory service provider tapped for the testing effort.
The provincial government allocated PHP1 million for each of the cities and municipalities to fund their localized implementation of measures in combatting swine diseases.

Intensified surveillance
The governor also ordered local government units (LGUs) to intensify surveillance and monitoring of all backyard and commercial farms and stockyards, including those in the livestock markets and holding facilities.
"Swine raisers shall segregate and isolate sick pigs from healthy ones/ Pigs isolated from the rest of the herd shall be monitored daily by a barangay animal health aide," the order said. She required daily reporting of pigs' status in villages.
Farms, pig pens, holding rooms, or facilities used for the isolation should be cleaned and disinfected regularly while "pigs showing symptoms may be treated with antibiotics to minimize secondary bacterial infections," the order added.
The order also prohibits the practice of swill (leftover food) feeding in backyard farms. Slaughtering of pigs should also be done in slaughterhouses only.
Garcia authorized the mayors in LGUs that have no existing slaughterhouses to designate an area where they can butcher their pigs.
With the new order, Garcia said backyard-level hog farmers are now obliged to register, conduct continuous disinfection measures, designate isolation for sick pigs, isolate those that have shown symptoms, and report to the authorities clinical signs in their herd.
"Confirmed ASF-positive pigs shall be humanely euthanized by a veterinarian. Thereafter, the dead pigs shall be buried at least one meter below the ground by the owner under the supervision of a veterinarian," Garcia said in her order.
The governor also ordered LGUs to hold vaccination of swine against hog cholera.
Meanwhile, Rolando Tambago, president of both the Central Visayas Pork Producers Cooperative and the Pork Producers Federation of the Philippines, said the groups support the Cebu government's policies in combatting ASF and other hog diseases.
Tambago said based on private sector estimates, five million hogs had been killed in the fight against the ASF since it first surfaced in the country in 2019. (PNA)