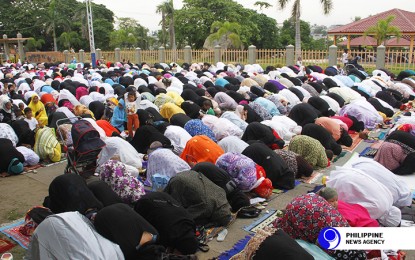 MANILA – Department of National Defense (DND) chief Carlito Galvez Jr. expressed hope that the holy month of Ramadan would serve as an opportunity to foster peace in the country.
"This celebration is a perfect opportunity for us to come together in our collective efforts to bring peace and prosperity to our country. Let inner reflection, prayer, self-sacrifice, and charity encourage us to maintain our faith and well-being," Galvez said in a message Wednesday, ahead of the start of the holy fasting month for Muslims.
The DND chief also hopes that the observance would remind everyone to be instruments of peace.
He also enjoined Muslim Filipinos to contemplate and reaffirm a sense of optimism and dedication in "carrying out our responsibilities to our people and communities".
"May the spirit of harmony and understanding according to the teachings of the Islamic faith inspire us to live and face the challenges ahead. Ramadan Mubarak from your One Defense Team!" the DND chief stressed.
Meanwhile, the Muslim community in Cebu said it would offer special prayers and sacrifices for the peace of the world and an end to the war in Ukraine when Ramadan starts on Thursday.
Ustadz Najeeb Razul, an Imam and Islamic law expert in Central Visayas, advised Cebuano Muslims to observe Ramadan with the people suffering in countries experiencing armed conflict in their minds as they recite their prayers and perform an act of kindness during the celebration.
"Our congregational prayers would usually have an invocation for world peace. Everybody will pray for peace and at the same time participate in their own way a special effort in the global perspective in solving conflicts between countries," Razul told the Philippine News Agency (PNA) in an interview.
He said he would pray for "sober minds to be considerate, to play cool, and talk among themselves to discuss things to avoid war."
Ramadan, one of Islam's five pillars, is the ninth month in the Islamic calendar which serves as a time of worship, fasting, prayer, charity, community spirit and spiritual development.
Eid'l Fitr, one of the two most important Islamic celebrations, is observed by the Muslim community three days after the month-long Ramadan fasting. (PNA)