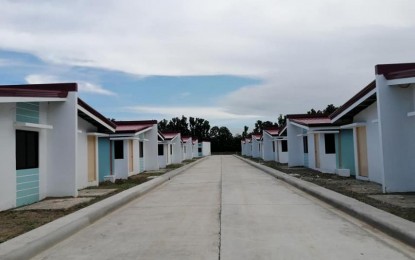 MANILA – President Ferdinand R. Marcos Jr. on Wednesday said the government will implement a pilot shelter program for the country's soldiers and police officers with the construction of 1,000 housing units in Cavite.
In a media interview after attending the Philippine Army's 126th founding anniversary in Taguig City, Marcos said this is part of his administration's efforts to invest in the well-being of the country's uniformed personnel so that they, in turn, could concentrate on effectively performing their duties.
"We have to help them with their housing because again, I, in my view, whatever it is, whatever efforts we put into this is an investment. It's not a financial investment. It's just an investment in the well-being of our uniformed personnel," Marcos said.
Under the pilot program, Marcos said around 500 housing units will be built for the military, and the other 500 would be for the Philippine National Police.
He pointed out that the government has to craft a financing scheme suitable to the police and the military because of their frequent transfer from one area to another, adding the details are now being worked out.
"Ang naging – hindi naman problema 'yung pagtatayo kung hindi papaano ang magiging financing scheme (The problem, somehow, is how financing scheme would be done)," he said.
Marcos met with Philippine National Police chief Gen. Rodolfo Azurin Jr., Armed Forces of the Philippines chief of staff Gen. Andres Centino, Housing Secretary Jose Acuzar and Cavite Gov. Jonvic Remulla in Malacañang Tuesday to craft a scheme or system for the housing needs of soldiers and policemen.
"We are starting now to put together the system wherein they can be included in the financing system not only with public banks but also with private banks for this," Marcos said.
Marcos said there is available land for the program but the government has to work on a scheme to get others onboard.
Acuzar earlier said the planned financial scheme aims to "mobilize more private partners, such as developers, banks and other financial institutions to invest in housing production." (PNA)