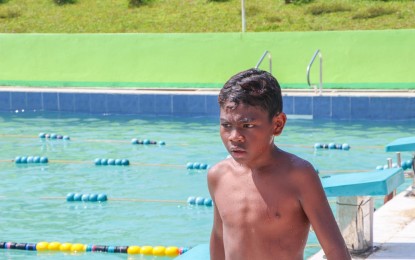 LAOAG CITY – The landlocked province of Apayao is rooting for a 13-year-old boy from an Aeta community in Marag Valley who made an impressive showing at the recent provincial sports selection meet.
After winning three gold and three silver medals in the local sports event, the new Apayao swimming prodigy Jhon Rey Tayam is set to represent the province in the upcoming Cordillera Administrative Region Athletic Association (CARAA) meet which is tentatively set for April 29 to May 1, 2023.
Winners in the CARAA meet will represent CAR in this year's Palarong Pambansa on July 29 to Aug. 5.
Tayam's swimming coach Randy Agpuldo said the young athlete from Marag Elementary School in Luna town exhibited a high level of discipline and determination beyond his years. The crowd-favorite during the local competition dominated other athletes representing various school districts in freestyle, butterfly, backstroke and relay.
"He is a student of the sport. I can always see his eagerness to learn and improve during our practice sessions. His level of maturity, sportsmanship, and decision-making, aside from his talent and skills, is also unmatched," Agpuldo said.
Growing up in the mountains of Marag Valley, Tayam told in a media interview that swimming is a survival skill when you live nearby rivers and streams to gather food.
As Tayam prepares for bigger events, several Apayao residents who have seen his passion for sports pledged to support him.
Meynard Domingo, a farm supervisor of RJDomingo Fish Farm in Imelda village, said he will sponsor the boy's swimming cap, goggles and swimming trunks.
As a sports enthusiast himself, Domingo said he has long wanted to facilitate swimming classes for the Apayao youth and develop homegrown athletes but he did not have the time.
"So proud of you anak (son). Congratulations. Just continue to fulfill your dreams. Be humble and kind always," said Norlie Viernes Alvior, a teacher from Luna district. (PNA)