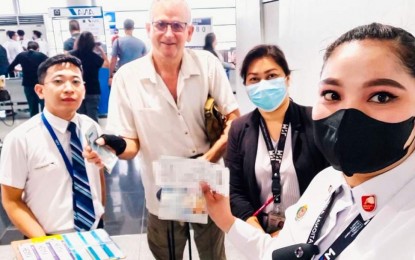 MANILA – The Manila International Airport Authority (MIAA) on Wednesday commended some workers at the Ninoy Aquino International Airport (NAIA) Terminal 3 for returning the money of an outbound passenger.
In a Facebook post, the MIAA said passenger Terrance Alspach dropped USD1,017 (approximately PHP55,237) while completing departure formalities for his flight bound for Tokyo, Japan on Monday.
The post indicated that a wheelchair attendant saw the unattended bills, which the MIAA Media Affairs Division said were placed inside a small bag.
The unnamed wheelchair attendant alerted Mercy Pecson, a security guard, who then sought the assistance of the Airport Police Department. Pecson narrated that she learned from an All-Nippon Airways (ANA) supervisor that someone had dropped his or her money.
She called the airport police assigned in the area and the latter counted the money in front of the airline supervisor.
MIAA added that the workers requested for a review of the CCTV footage to identify the owner.
After about 30 minutes, they were provided with a photo of Alspach, a passenger of flight NH 280.
A photo of the airport workers together with Alspach holding the money was posted on NAIA's Facebook page.
"The Manila International Airport Authority commends these airport employees for exemplifying honesty and integrity and setting a model for others to follow," it said, adding that "it is heartening to know that there are still people who prioritize doing the right thing," and that the workers' actions deserve respect and recognition. (PNA)