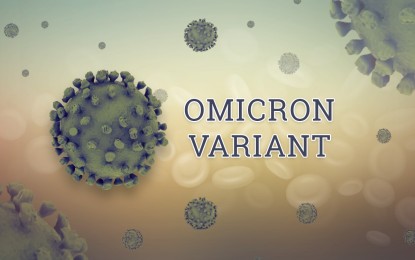 MANILA – The Department of Health (DOH) has detected 711 new cases of the highly transmissible Omicron subvariants.
In its latest coronavirus disease 2019 (Covid-19) biosurveillance report, the department noted that 798 samples were sequenced by the San Lazaro Hospital, Research Institute for Tropical Medicine and the University of the Philippines - Philippine Genome Center Main, Visayas, and Mindanao from March 6 to 10.
Out of the total samples, about 264 or 33.08 percent were classified as BA.5 (including three BQ.1 cases and one BF.7 case); 259 or 32.46 percent as BA.2.3.20; 72 or 9.02 percent as XBB (including 10 XBB.1.5 cases); 28 or 3.51 percent as XBC; four or 0.50 percent as BA.2.75 (including two BN.1 cases and one CH.1.1 case); three or 0.38 percent as BA.4; and 81 or 10.15 percent as other Omicron sub lineages.
"All additional BA.5 cases were local cases from all regions except Northern Mindanao and Bangsamoro Autonomous Region in Muslim Mindanao while additional BA.2.3.20 cases were from all regions except Eastern Visayas.
Among recently detected XBB cases, one was classified as a Returning Overseas Filipino (ROF) while the rest were local cases from regions – Ilocos Region, Central Luzon, Calabarzon, Mimaropa, Bicol Region, Western Visayas, Central Visayas, Davao Region, Soccsksargen, Cordillera Administrative Region (CAR), and the National Capital Region (NCR)," the DOH said.
The XBC cases were all local cases from the Ilocos Region, Central Visayas, Northern Mindanao, Davao Region, and Soccsksargen.
All BA.2.75 cases were local cases from the Davao Region, CAR, and NCR while the additional BA.4 cases were local cases from Regions Calabarzon, Davao Region, and Soccsksargen.
As of March 15, the World Health Organization has labeled BA.2.75, BQ.1, XBB, CH.1.1, and XBF as variants under monitoring.
The European Center for Disease Prevention and Control has labeled BA.2.75, BQ.1, XBB, and XBB.1.5 as a variant of interest; and CH.1., XBF, and XBCr as variants under monitoring as of March 9. (PNA)