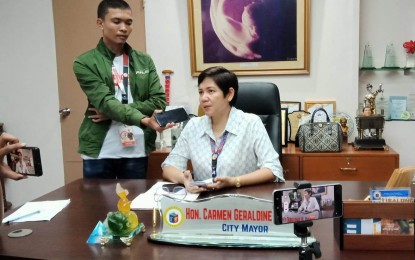 LEGAZPI CITY – This city is Bicol's No. 1 in local tax collection for 2022, according to the Bureau of Local Government Finance (BLGF) under the Department of Finance (DOF).
BLGF-Bicol noted that Legazpi recorded the highest nominal locally sourced revenues (NLSR) among the region's seven cities with PHP733.731 million collection, which is higher than the targeted PHP650 million.
Mayor Geraldine B. Rosal, in an interview on Wednesday, commended the City Treasurer's Office (CTO) for the significant improvement in the collection of local taxes, adding that the city's tax innovation collection scheme and the effective implementation of the tax campaign program contributed a lot to Legazpi's high revenue collection.
Rosal said the return to normal business operations and the increase in tourist arrivals after the Covid-19 pandemic have contributed so much to the higher local tax collection.
The NLSR is income collected from the Real Property Tax (RPT)-Basic and Special Education Fund (SEF) as well as the business taxes, including fees and charges, and economic enterprise.
Based on the record from the (CTO), the city has a total collection of PHP208,507,592 from the RPT; PHP387,464,726.22 from business tax; PHP98,300,229.22 from fees and charges; and PHP39,457,990.08 from economic enterprises.
"I am very grateful also to the cooperation of all the taxpayers, for paying their taxes responsibly that helped so much to the continuous improvement of the city's local economy," Rosal said.
She added that the local taxes collected by the city administration have been used for social services and other important programs and projects for the benefit of the people.
"Legazpi City was also named by the BLGF as the Top 2 in the 2022 Year-on-Year growth in locally sourced revenue, Top 3 in collection efficiency of locally sourced revenue, highest assessment in Real Property Tax, top 1 in Quarterly Report on Real Property Assessment (QRRPA) and Top 2 in nominal assessment," the mayor added.
Engineer Eduardo Luna Jr, chief of the City Assessor's Office (CAO), said in a separate interview that his office has been using the tax mapping and Geographic Information System (GIS) connected to the Enhanced Tax Revenue Assessment Collection System (ETRACS) as the best way of locating and identifying delinquent properties, which facilitate the process of real property tax assessment. (PNA)