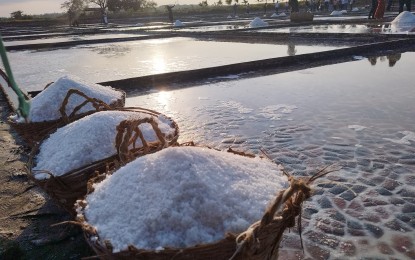 LINGAYEN, Pangasinan – The Ilocos Regional Development Council (RDC) 1 approved on Wednesday the proposed establishment of the sea salt (asin) research and development centers in the region as part of measures to revive the salt industry in the country.
Engineer Rex Basuel, program leader of the Pangasinan State University (PSU) said during the RDC-1 meeting that the project is under the Niche Centers in the Regions (NICER) Program of the Department of Science and Technology (DOST).
The project will be headed by the PSU in collaboration with the Don Mariano Marcos Memorial State University, the University of Northern Philippines, President Ramon Magsaysay State University, and Mariano Marcos State University.
Basuel said it is also in coordination with the Pangasinan provincial government, local government units in the Ilocos Region with a salt-making industry, and other national government agencies.
The project will run for three years with the proposed funding amounting to PHP141 million.
He said under the proposal, PHP106.5 million would come from DOST and the PHP34.5 million would be a counterpart fund.
"The focus on salt research development is timely and necessary," he said.
The Department of Agriculture - Bureau of Fisheries and Aquatic Resources (DA-BFAR) earlier launched in Pangasinan a project to develop the salt industry through "Operation Plan or Oplan Asin."
BFAR national director Demosthenes Escoto said Oplan Asin aims to give continuous support to salt makers by giving them technology and equipment to increase production quantity and quality, and improve their capabilities based on food safety standards and proper food handling to help them increase their income.
Romy Baldonado, a resident of this town, who grew up in a salt-making family, is one of the optimistic would-be beneficiaries of the project.
"Nagsimula kaming mag-asin simula pa sa tatay ko. Bata pa lang ako tinuturuan na ako at ngayon itinuturo ko na din sa mga anak ko kasi mag-work man sila dito o kung hindi man, at least hindi nila makalimutan ang pinagmulan ng kabuhayan namin (Our family started salt making since with my father. He started teaching me since I was young and now, I am also teaching it to my children because whether or not they choose it as a livelihood, at least they will not forget our family's livelihood)," he said.
Baldonado noted that salt making is a challenging source of livelihood, being seasonal and highly dependent on the weather.
"Minsan namamasada na lang ako ng tricycle o di kaya ay nangangalakal (Sometimes I just drive my tricycle or buy and sell junk)," he said when asked about their alternative sources of income. Baldonado, his wife, and their children all work together at the salt farm.
Aida Montelevano, one of the salt makers of Dasol town in Pangasinan, said most of their children also work at salt farms.
"Walang educational requirement sa pag-aasin basta kaya mo at alam mo pwede ka (No educational requirement is needed in salt making, so long as you can do it and you know how to do it)," she said.
She said not much has changed in the art of traditional salt making.
To create salt, seawater is diverted to the salt beds (which are used as fishponds in the rainy season) that are enclosed by half-foot wooden panels and with tiled floors.
The seawater is then left to evaporate in the salt beds for a whole day, leaving salt crystals to be harvested by the workers the next day.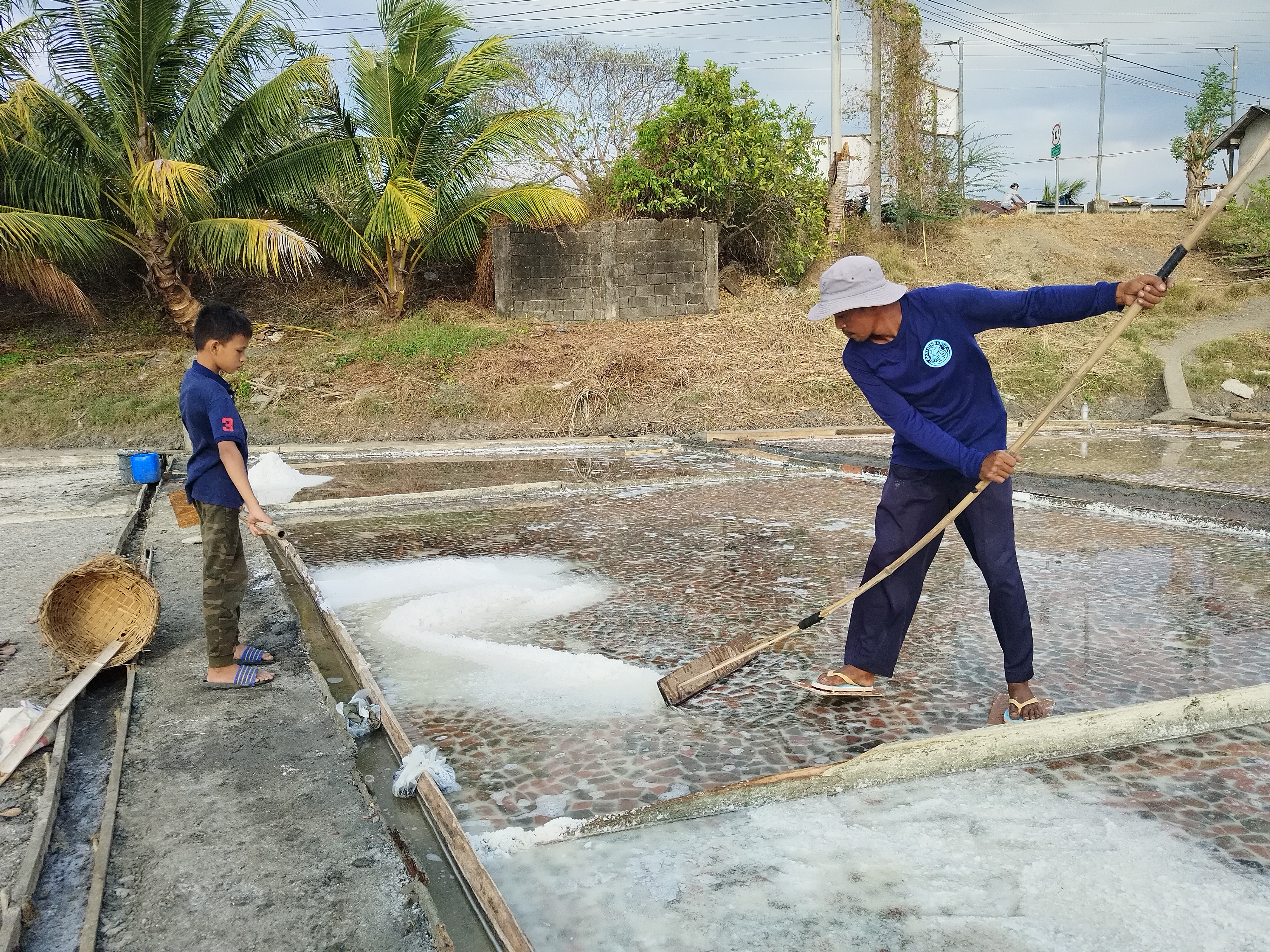 As part of Oplan Asin, representatives of the BFAR and the offices of Senator Cynthia Villar, chairman of the Senate Committee on Agriculture, and Senator Nancy Binay conducted a consultative meeting in Dasol town, Pangasinan on March 9.
To expand Oplan Asin to other provinces, BFAR 1 (Ilocos) regional director Rosario Segundina Gaerlan said a consultative meeting was also held in Ilocos Norte earlier this month, with the next meetings to be held in Ilocos Sur and La Union.
The Senate Agriculture Committee is now pushing to amend Republic Act 8172, or An Act for Salt Iodization Nationwide (ASIN), seeking to revive the country's salt industry, and the consultative meeting with the salt makers will be used in the succeeding committee hearings.
Villar said the law should not require all local producers to iodize salt as a big part of the demand comes from farmers who use salt not for food but for their fertilizer.
Among the concerns of salt makers in Dasol were their need for interventions during lean months or down season of salt making, specifically during the rainy season or during weather disturbances, their need to be formed into a cooperative to access government programs, and their need for market linkage including the proper pricing or increased market value of their products.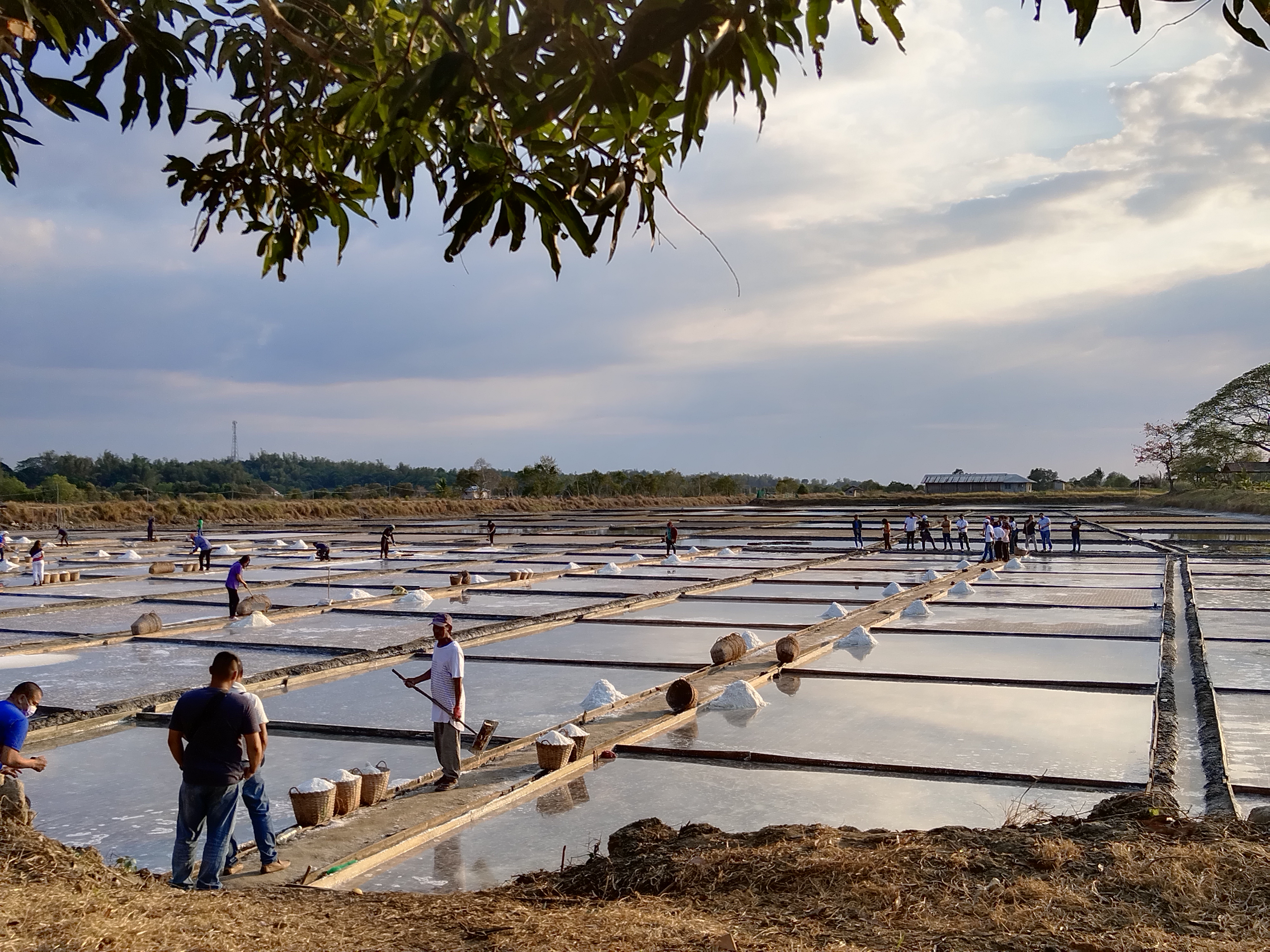 BFAR regional offices are already profiling salt producers to identify the target beneficiaries and assess the interventions that need to be prioritized. Beneficiaries will either be individuals or groups.
Dasol Mayor Rizalde Bernal expressed support for the project of the national government.
"We support the call to amend the Asin Law and we vow to continue to support and protect our local salt makers so they could continue with their livelihood," he said, noting that salt making is the primary source of income in their town. (PNA)