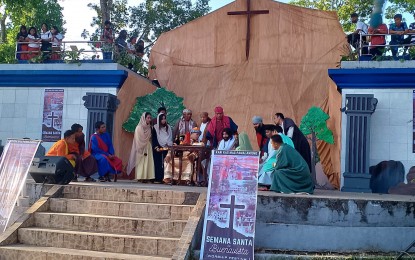 ILOILO CITY – This Lenten Season, the municipality of Sibunag in Guimaras province is opening its doors to pilgrims for the 10th year of their Worship Festival that will give visitors a place to reflect and to witness the re-enactment of the passion of Jesus Christ.
Sibunag acting municipal administrator Paul Esmaya, in an interview on Wednesday, said that 10 of the 15 religious denominations in their town have so far committed to join the April 2-8 "Semana Santa sa Buenavista" event dubbed, Worship Festival, to prepare the Christian community, devotees, and parishioners for the Paschal Triduum or the Holy Thursday, Good Friday and the Black Saturday.
"We do not compromise their beliefs. We have a program for their common beliefs starting with the triumphal entry (Palm Sunday) on April 2 that will be joined by the IFI (Iglesia Filipina Independiente) and the Catholic Church," he said.
Esmaya added that the participation of other religions will be on the ecumenical prayer.
On April 2, the Mt. Zion Foursquare - a gospel church- will hold the Children's Day Honoring Jesus at the municipal gymnasium.
There will be a nightly musical presentation by the St. Isidore the Worker Parish Church, Guimaras Baptist Churches, and the Good Shepherd Baptist Church and a film showing by the local government of Buenavista at the Heroes Park from April 2-5.
The Most Holy Name of Jesus will offer forgiveness and healing activity on April 4 and 6.
The IFI –Parish of the Holy Child and the Cathedral of our Lady of Salvacion will have a re-enactment of the Pagdakop/Last Supper in the afternoon of April 6.
The participating religions will also observe the Via Crucis, Siete Palabras (Seven Last Words) and Pagtaltal (bringing down the body of Jesus Christ from the cross) in their respective churches on Good Friday while on Black Saturday the LGU will have a film showing of the Passion of Christ at the Heroes Park.
On Easter Sunday, there will be a reenactment of the "Pagkita" or the Rite of Salubong, Resurrection, and a musical presentation and concert.
Esmaya said the LGU supports these activities including workshops and coaching for their play or presentation and costumes.
Esmaya is also hoping that spectators can also reflect when they see the portrayal of actors during the reenactment and remind them of the suffering of Jesus Christ.
A preview of the reenactment of the "Litanya sa Balay ni Lazaro" was held Tuesday afternoon at the Heroes Park.
One week before the start of the festival, the frontliners at the Buenavista wharf and the offices of the LGU will don costumes of women of Jerusalem, apostles, and similar attire to welcome guests and other visitors.
The festival, he added, is part of their "Character First" moral recovery program that encourages the public to return to their spiritual life.
"The tourism sites and program is just secondary," he added. (PNA)