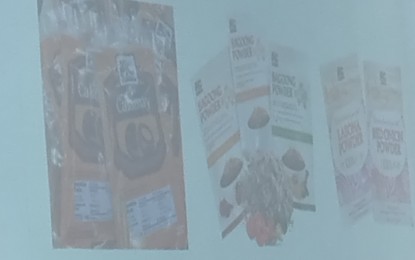 LINGAYEN, Pangasinan – The Pangasinan State University (PSU) and the Department of Science and Technology Food Innovation Center (DOST-FIC) on Wednesday launched technologies for the manufacture of "bagoong" (shrimp paste) and onion powder that will be made available for technology adopters.
DOST-FIC researcher Meryl Bernardino, in a forum on Wednesday, said the collaboration of the agencies has led to the development of these technologies that are relevant to the Ilocos Region's product improvement, deployment, and commercialization.
She said the bagoong powder and onion powder were developed using spray-drying technology.
"With this technology, we will solve the inconvenience during travel due to its usual storage. It has low sodium content and we used calamansi, tomatoes, and chili as natural flavorings," she said.
Bagoong or fish paste is usually packaged in glass bottles due to its liquid form.
The product was made from 100 percent liquid boneless bagoong that was turned into powder, she added.
Bernardino said the onion powder is also a solution to the high prices of the commodity.
"During peak season when the price is low, we can process onions," she said.
The onion powder is either made from 100 percent onion shallot or red onion varieties that have been spray-dried.
Spray-drying technology preserves the natural flavor of the onions and makes them convenient to add as a condiment for cooking.
Aside from the two technologies, the PSU and DOST-FIC also introduced the classic "calamay" (sweet sticky rice) with a longer shelf-life.
"The common calamay usually only lasts within three to five days but we have developed the classic calamay to last up to 28 days," she said.
Calamay is a delicacy made of glutinous rice, water, brown sugar, coconut milk, sweetened coconut meat, and food-grade organic preservative to lengthen its shelf-life.
Bernardino said there is financial feasibility in the return on investment for the three technologies.
She said the technology value for each product is worth PHP18,000 for the technology licensing fee and one percent of net income annually as a royalty fee.
Interested technology adopters may submit a letter of intent, then undergo technology assessment and fairness opinion board, sign the technology licensing agreement, and undergo technology training and incubation as the final step, she added. (PNA)