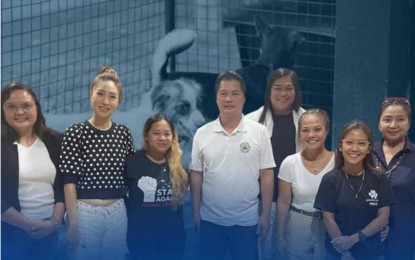 BACOLOD CITY – The city government here has granted financial assistance of PHP500,000 to animal welfare group PAWSsion Project Foundation Inc. for stray animal management and to provide care for dogs at the Bacolod City Dog Pound.
"We are very happy to partner with a group who is so PAWSsionate about their advocacy on animal welfare," Mayor Alfredo Abelardo Benitez said in a statement on Wednesday.
In August last year, the five-year-old non-profit organization, which is dedicated to the rescue, rehabilitation, and rehoming of animals in need, obtained an accreditation from the city government upon the approval of the City Council.
Founder Ma. Lourdes Perez said this paved the way for them to receive their "first-ever government financial assistance in five years".
"Bacolod City pound has changed my life and it has always been a dream of mine to not just fix it, but really make a change for animal welfare in Bacolod, most especially because this is where PAWSsion Project was born," she said in a post on the group's Facebook page.
Perez said the amount was allocated for spaying and neutering alone, but they requested that PHP100,000 be utilized for the food supplies of at least 108 impounded dogs at the city pound located in Alunan Avenue, Barangay 35.
"This will last the dogs at least three weeks of food and will give us time to promote them for adoption," she added.
Meanwhile, the remaining PHP400,000 will be used for free spay and neuter initiatives starting next month that will benefit pets owned by indigents, stray animals, and the dogs in the pound.
"With the help of other advocates in the city, we will work together to nurse the pound dogs back to health and find homes for them," Perez said.
She noted that the rescues and shelters of PAWSsion Project "will not in any way benefit from this assistance".
"We are purely a channel of this fund to serve the public and we are very, very grateful, " the animal welfare advocate said.
In another Facebook post, the PAWSsion project thanked Benitez "for giving animal welfare a chance".
"After several years, our hopes and dreams for Bacolod are slowly coming to life. Together with all the animal welfare groups in Bacolod, we will do our best to give a louder voice for the voiceless," the group added. (PNA)