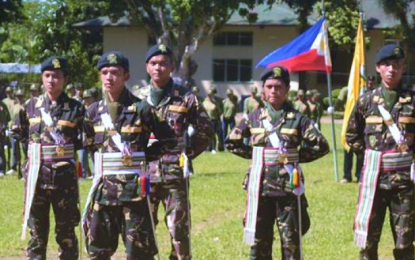 MANILA – Senate Bill 2034 or the Reserve Officers' Training Corps (ROTC) Act reached the Senate plenary on Wednesday sponsored by Senator Ronald dela Rosa as chairperson of the Senate Sub-committee on ROTC.
In his sponsorship speech, dela Rosa emphasized the youth's important role in nation-building and the State's mandate to protect their physical, moral, spiritual, intellectual, and social well-being.
"The State shall also inculcate in the youth patriotism and nationalism and encourage their involvement in public and civic affairs," he said.
Dela Rosa cited the need to prepare the youth for the task of building the nation to its full potential.
"Kaakibat po ng pagtataguyod sa bansa ang pagtatanggol nito (Part of nation building is defending it)," he said, noting that no less than the Constitution states that "the Government may call upon the people to defend the State and, in the fulfillment thereof, all citizens may be required, under conditions provided by law, to render personal military or civil service."
"And so, yes, an important aspect of mandating ROTC for our youth is ensuring that they are fully equipped to heed the call to defend the nation, when the need arises," he added.
Dela Rosa said the reinstitutionalization of ROTC would also prepare the youth in responding to disasters and instilling empathy among them.
Under the measure, students in higher educational and technical-vocational institutions will be required to undergo basic military and police training to motivate, train, organize, and use them for national defense preparedness or civil-military operations, and law enforcement.
It also aims to enhance their consciousness in the ethics of service, patriotism and nationalism, respect for human rights, appreciation of the role of national heroes in the historical development of the country, strengthen ethical and spiritual values, and develop personal discipline and leadership.
Dela Rosa said it would reinforce in students the values of civic mindedness, volunteerism, and genuine service to others to be active participants and volunteers for the development and improvement of ecology and environmental protection, human and civil rights awareness, and law enforcement.
He said it would provide the students with practical and applicable knowledge and skills that are necessary, essential, and ideal for survival, and extend service in times of emergencies and disasters, including disaster response operations, skills for search, rescue and relief operations, and early recovery activities.
He also assured that a Grievance Board in every ROTC unit and a National Grievance Committee would be established to ensure that no abuse, violence, or corruption in any educational institution implementing the mandatory ROTC program will be committed.
Dela Rosa recently came to the defense of the proposed measure amid calls to scrap the proposal due to the death of hazing victim Matthew Salilig, calling them a "desperate move from anti-ROTC leftist groups."
In a previous statement, he said he hopes to deliver his sponsorship speech on the proposed ROTC bill before the Senate adjourns its regular session on March 25 and possibly ratify the measure before the end of the year. (PNA)