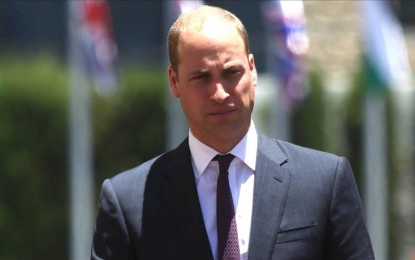 WARSAW – United Kingdom's (UK) Prince William made a surprise visit to Poland on Wednesday, meeting with Polish officials and British soldiers.
The British heir to the throne flew to Rzeszow in southeastern Poland near the Ukraine border, where he met soldiers from the 3rd Brigade Territorial Defense Force base and Poland's Defense Minister Mariusz Blaszczak.
"This afternoon, I travelled to Poland to meet British and Polish troops, where I heard about their extraordinary work in support of Ukraine. My message to them on behalf of all of us, thank you!" William wrote on Twitter.
William wrote that it was "fantastic" to be back in Poland.
"Our nations have strong ties. Through our cooperation in support of the people of Ukraine and their freedom, which are also our freedoms and yours, these ties are further strengthened," he said.
"I'm here because I want to personally thank the Polish and British troops working in close and crucial partnership. I also want to pay tribute to the inspiring humanity of the Polish people. You have opened your hearts as much as your homes."
The UK military is carrying out maneuvers with US and Polish armed forces on NATO's eastern flank.
"This is a great honor and distinction for me. I am proud that in the presence of the Prince of Wales, His Royal Highness, I can thank British and Polish soldiers for their joint service on Polish soil," Blaszczak said.
On Wednesday evening, William arrived in the capital Warsaw to meet with city mayor Rafal Trzaskowski, and on Thursday, he will meet with President Andrzej Duda.
His visit came shortly after Japanese Prime Minister Fumio Kishida met Wednesday with Polish Prime Minister Mateusz Morawiecki.
William's previous visit with his wife Kate took place in July 2017, when they held the titles of Duke and Duchess of Cambridge. (Anadolu)